Sara Bareilles Mentors Young Singers At Rock N' Roll Camp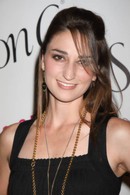 Pop star Sara Bareilles stopped by an all-girls music camp in California this week to mentor a group of aspiring young singers.

The Love Song hit-maker , who is currently touring with country group Sugarland, took some time out from her own musical duties and visited the Rock N' Roll Camp for Girls in Los Angeles on Tuesday to provide counseling, tips and feedback to the teens during their vocal lessons.

However, Bareilles' kind gesture didn't end there - she also presented officials at the kids' organization with a $10,000 check to support the group's mission of empowering young women through music education.