Sandra Bullock Tops '25 Most Intriguing People Of 2010' List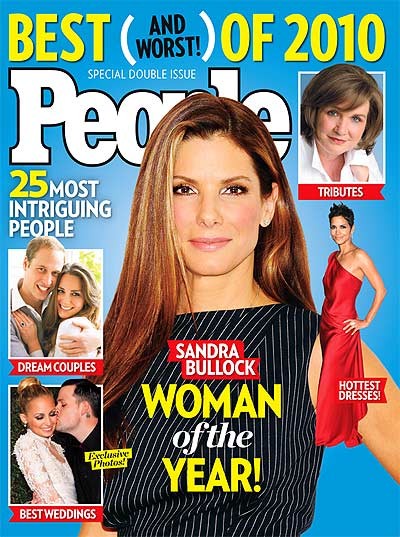 From hookups, breakups, weddings, and babies to the best in movies, TV shows, music, and books, PEOPLE magazine celebrates the biggest pop culture moments in a year-end double issue featuring the "25 Most Intriguing of 2010." PEOPLE names Sandra Bullock, who graces the cover, 2010 Woman of the Year. For the Oscar-winning actress, the holiday season is yet another milestone in a life-changing year: the year she became a mother, grappled with the end of her marriage, and claimed her spot as Hollywood's top female star.

Now mulling her next moves, 46-year-old Bullock - who, contrary to tabloid reports, has no plans to adopt again soon - has her pick of Hollywood's most sought-after scripts. Above all, she is cherishing her time with her 11-month-old son Louis. And so a year that began with a bang is going out with a soft, contented whisper. "Bad things happen, but she celebrates the good ones," a Bullock source tells PEOPLE. "And Louis is a wonderful celebration of good things."

PEOPLE named Natalie Portman Screen Gem of 2010 and spoke with the actress regarding her father's reaction to her racy role in Black Swan: "I was so nervous - there's a lot of sexuality in the film - but he said, 'This is my favorite thing you've been in.' That meant the world to me." What about the possibility of her ever appearing on Dancing with the Stars? She tells PEOPLE, "[laughs] No, I'm going to see how this whole acting thing works out."

Sarah Palin remade herself this year as a reality star on TLC's Sarah Palin's Alaska. The former Governor of Alaska, who was named PEOPLE's Big Gun of 2010, explains, "I grew up watching Mutual of Omaha's Wild Kingdom. We decided that's what America's missing right now: a family-oriented, get-outdoors-and-enjoy-God's creation kind of show."

From Tony Parker's texts to Courteney Cox's separation, PEOPLE looks back at the most Shocking Splits of 2010 including Jenny McCarthy & Jim Carrey, Kelsey & Camille Grammer, Al & Tipper Gore, and nine other couples who ended their relationships this year.

But many celebs said their "I do's" this year: Nicole Richie & Joel Madden's Versailles-inspired bash (exclusive photos on page 140), Carrie Underwood & Mike Fisher's Southern affair, Katy Perry & Russell Brand's Indian fantasy, and 11 more happy Couples of the Year who tied the knot.

Plus, many new lives entered the world in 2010. The Babies of the Year include James Van Der Beek's daughter Olivia (exclusive photo on page 151), Celine Dion & René Angélil's twins Nelson and Eddy, Bethenny Frankel & Jason Hoppy's daughter Bryn Casey, and eight other celebrity bundles of joy.

From Mel Gibson's rampage to Charlie Sheen's night of debauchery, PEOPLE reviews the year's lowlights in a new category, Hall of Shame.

In a special Tributes section, PEOPLE remembers Hollywood icons, prime time favorites, and some familiar faces who said a final goodbye in 2010, with friends and family sharing memories. Betty White on her Golden Girl co-star Rue McClanahan: "These are the words I would use to describe Rue," she tells PEOPLE. "Talented, funny, sexy, friend. There wasn't a bitchy bone in her body." Victoria Reggie Kennedy, wife of the late Senator Edward Kennedy, on author and activist Elizabeth Edwards: "Whether discussing health policy, family, shopping, dieting or the juggling act that we women all try to perform…she was charming, real and totally without guile." Film director David Lynch on actor Dennis Hopper: "Dennis lived what I like to call the art of life," he tells PEOPLE. "He did what he believed in, and in order to do what he wanted, he had to be a rebel."

Complete List of PEOPLE's "25 Most Intriguing Of 2010" (list not ranked)

Sandra Bullock: Woman of the Year
The Obamas: First Couple
Brad & Angelina: Glam Parents
Michael Douglas: Fighter
Elizabeth Smart: Rebounder
William & Kate: Royal Couple
Elin Nordegren: Class Act
Natalie Portman: Screen Gem
Nicki Minaj: Rap Renegade
Sarah Palin: Big Gun
LeBron James: Number 6
Bret Michaels: Ultimate Survivor
Julian Assange: Hacker
Chilean Miners: Rescue
Ricky Martin: Out and Proud
Kim Kardashian: Entrepreneur
Mark Zuckerberg: Smartie
Heidi Montag: Makeover
Jake & Taylor: Talked About Couple
Ryan Reynolds: Sexiest Man: The Aftermath
Will Smith's Kids: Next Generation
Christina Aguilera: A Fresh Start
Ali Fedotowsky & Roberto Martinez: Blissful Bachelorette
James Franco: Multitasker
Conan O'Brien: Comeback Kid

Splits of 2010 (list not ranked)

Eva Longoria & Tony Parker
Jenny McCarthy & Jim Carrey
Kelsey & Camille Grammer
Charlize Theron & Stuart Townsend
George & Ann Lopez
Rachel Weisz & Darren Aronofsky
Elisabeth Moss & Fred Armisen
Al & Tipper Gore
Neve Campbell & John Light
Halle Berry & Gabriel Aubry
Melissa & Tammy Etheridge
Billy Ray & Tish Cyrus
Courteney Cox & David Arquette
Kate Winslet & Sam Mendes

Weddings of 2010 (list not ranked)

Nicole Richie & Joel Madden
Carrie Underwood & Mike Fisher
Emily Blunt & John Krasinski
Jane Lynch & Lara Embry
Jenna Fischer & Lee Kirk
Alicia Keys & Swizz Beatz
Russell Brand & Katy Perry
Harrison Ford & Calista Flockhart
Penélope Cruz & Javier Bardem
JoAnna Garcia & Nick Swisher
Anna Paquin & Stephen Moyer
Orlando Bloom & Miranda Kerr
Megan Fox & Brian Austin Green
Chelsea Clinton & Marc Mezvinsky

Babies of 2010 (list not ranked)

Kimberly & James Van Der Beek (Olivia)
Padma Lakshmi (Krishna Thea)
Bethenny Frankel & Jason Hoppy (Bryn Casey)
Mario Lopez & Courtney Mazza (Gia Francesca)
Celine Dion & René Angélil (Nelson & Eddy)
Tiffani Thiessen & Brady Smith (Harper Renn)
Joey & Kelly Fatone (Kloey)
Danica McKellar & Mike Verta (Draco)
Rachel Dratch & John Wahl (Eli Benjamin)
Mark McGrath & Carin Kingsland (Hartley Grace & Lydon Edward)
Gone, But Not Forgotten:"There Wasn't a Bitchy Bone in Her Body" ~ BETTY WHITE on RUE McCLANAHAN
"She Was Charming, Real and Totally Without Guile" ~ VICTORIA REGGIE KENNEDY on ELIZABETH EDWARDS
"In Order To Do What He Wanted, He Had To Be a Rebel" ~ DAVID LYNCH on DENNIS HOPPER

Hall Of Shame (list not ranked)

Mel Gibson
Smoking Toddler
Charlie Sheen
Brett Favre
Bad Teen Mom
Four Loko

Also In This Week's 'PEOPLE':

-Nicole Richie & Joel Madden: Exclusive Wedding Photos
-Splits, Weddings, And Babies Of The Year!
-Zac Efron & Vanessa Hudgens Split: "They Are 100 Percent Still Good Friends," Says A Source
-Jack Black: "I Cried Thrice During Toy Story 3! Thrice!"
-On People.Com: Scarlett Johansson & Ryan Reynolds Split: "We've Decided To End Our Marriage"


For more on PEOPLE's picks for Best Movies, TV Shows, Music and Books of 2010, pick up the December 27th special double issue, on newsstands Friday, December 17th.


Click for more great Sandra Bullock pictures: