Sandra Bullock Sues Watch Company Over Ads For 'The Blind Side'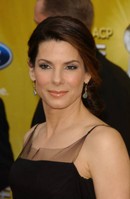 Sandra Bullock has filed suit against a watch company over allegations her image was used in a marketing campaign without her permission.

The star wore a diamond-encrusted timepiece made by ToyWatch USA in her Oscar-winning film The Blind Side, and she claims staff at the firm exploited that connection to advertize its products.

Bullock filed legal papers in Santa Monica, California seeking damages and an injunction to stop the company using her name and image.

The lawsuit states, "ToyWatch USA intentionally and prominently used Ms. Bullock's name, photograph, image, identity, and persona in advertising, marketing, and/or promotion... to sell watches...

"(She) will not voluntarily appear in print or other media for a company or product unless she carefully selects and believes in the company and product, and unless the compensation she receives is commensurate with the value of the exploitation of her name, image, identity, and persona."