Sandra Bullock Relates To Her Character In 'All About Steve'

This week's comedy
All About Steve
casts
Sandra Bullock
as quirky crossword puzzle writer Mary Horowitz. Her wealth of knowledge over intellectual minutiae makes her a social outcast, which is why Steve backs off from her aggressive sexual passes. Bullock said she could relate to the quirky brain Horowitz.
"My head is filled with so much crap, or facts that I find important, but that some others don't," Bullock said. "All the knowledge that I have doesn't necessarily make me brilliant, but I love acquiring knowledge and then sharing it with everybody else. I love trivia. I love the knowledge of stuff, and I get very excited about it, very much like Mary Horowitz."
Being a celebrity, Bullock herself could be the clue in a crossword puzzle. "I have, and I get that one, every time. I get very excited and I'm like, 'I know that one!' But, if you read quickly, you could just see, 'Actor Bullock,' and they'd throw you off with Jim J. Or, 'Musician Bullock,' which could be Anna Mae Bullock, who is
Tina Turner
."
In the film, Mary rambles off run on sentences full of these little factoids. Bullock said she had no problem remembering her lines. "What's weird, and most actors will probably attest to it, is that when you have a full page of well-written dialogue that has a thought process to it, it is pretty easy to memorize. It's a lot easier to memorize than if you're in a scene and other people are talking, and you have maybe one word or one sentence that you have to interject at the right time and in a natural way. The one-page monologue is far easier to memorize. When I want to get information across, it's like the firing of pistons. One goes off, and it sets another one off, and I just can't stop. I have to explain everything and get it out of my head, so I felt very comfortable with that rhythm, and we matched it up with the physicality or running after them or chasing, or something."
All About Steve opens Friday.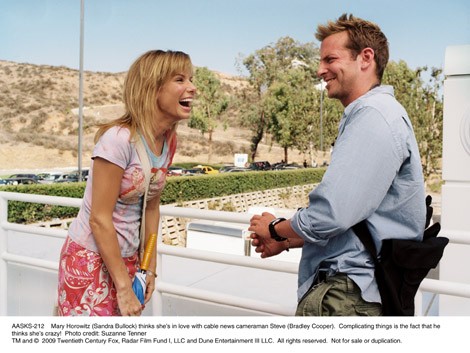 Image © Twentieth Century Fox.
Story/Interview by
Fred Topel
Starpulse contributing writer
(Starpulse in Hollywood)
: Every week, Hollywood's biggest stars are meeting in the hot spots and Starpulse is there.