Sandra Bullock, Kate Winslet Victims Of 'Best Actress' Oscar Curse? (Video)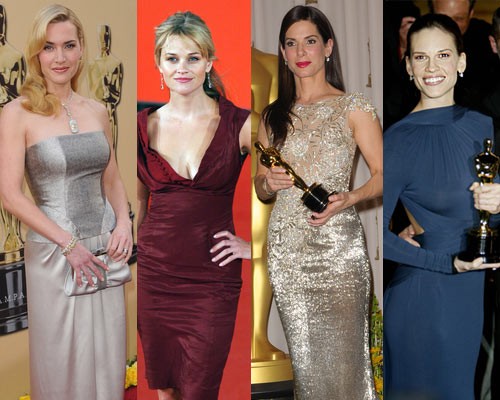 The latest news about Sandra Bullock's husband, Jesse James, allegedly cheating on her and the recent revelation that Kate Winslet is splitting from her husband, director Sam Mendes, leads us to believe that perhaps their recent Best Actress Oscar wins have something to do with it.

Yes folks, it appears that an 'Oscar Curse' has been running wild in Hollywood for the last decade. The curse appears to have begun in 2001, when Julia Roberts won the award for her performance in "Erin Brockovich". Shortly after her win (although not married to each other) she dumped boyfriend Benjamin Bratt.

Next, it was Halle Berry - who after her 2002 win for "Monster's Ball" - split with her husband, musician Eric Benet. And in 2003, Nicole Kidman left Tom Cruise after her win for "The Hours" (yeah, we all know that story).

Charlize Theron would follow - she won for "Monster" in 2004 and split with long-time partner Stuart Townsend in January. But their breakup had the longest lapse since her Oscar win - so does it count?

2005 saw Hilary Swank win Best Actress for her role in "Million Dollar Baby". After a heartfelt 'thank you' to him during her acceptance speech she split with her husband, actor Chad Lowe, less than a year later. The next year Reese Witherspoon took home the gold for her portrayal of June Carter Cash in the Johnny Cash biopic, "Walk The Line". Six months later she and husband Ryan Phillippe were dunzo after seven years of marriage.

The alleged curse was avoided for the next two years though - Helen Mirren won for "The Queen" in 2007 and she's still happily married to director Taylor Hackford (they've been together since 1986). The same goes for French actress Marion Cotillard in 2008. She won the award for "La Vie En Rose," a biopic about the life of singer Edith Piaf; however, she was single at the time.
 
Winslet & Mendes confirmed their split after nine years together on March 15th. She won Best Actress last year for "The Reader"; and hot off the heels of her win for "The Blind Side", Sandra Bullock was blind-sided by allegations that husband James has been cheating on her, as recently as days before her win, where she tearfully thanked him for being a big part of her life.

So are all these splits the result of a curse hanging over Best Actress Oscar winners? Or is this just a coincedency with what seems to be the short cycle of the typical Tinseltown marriage? Guess we'll just have to see what happens next year...
More news on Sandra Bullock's split:
-Jesse James' Sexy Texts To Alleged Mistress Exposed
-Jesse James Apologizes To Sandra Bullock & Family
-Sandra Moves Out
Click for more great Sandra Bullock pictures: