Sandra Bullock Is Sexy On The Cover Of The New EW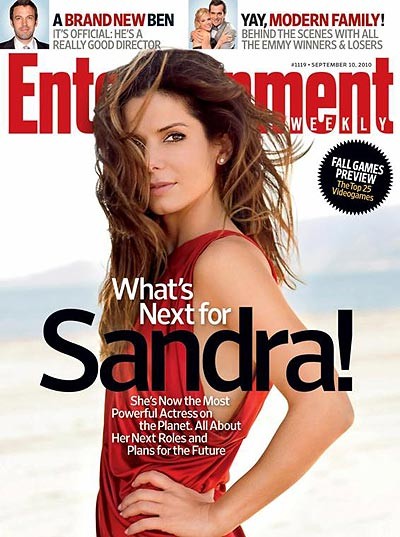 Sandra Bullock wasn't buying the hype. Speaking to EW last fall, weeks before the opening of a little heart-warmer of a movie called The Blind Side, the actress - who had reemerged earlier that year from a two-year hiatus with her biggest hit ever, the romantic comedy The Proposal - predicted that her newly reinvigorated career would soon cool down again. She brushed off The Proposal's success as a cosmic fluke: "I don't pump my fist in the air. I don't want anything karmically crashing down on me." She dismissed the idea that she might score an Oscar nomination for The Blind Side: "The stuff that I migrate to isn't the stuff that wins awards." And she vowed that she would be off the public's radar again in no time, holed up at home, with Hollywood at a comfortable distance. "Trust me, people are going to be like 'Get her away,'" she said. "And I will go away. I'll be quiet again after this."

Bullock had always been known for light, slapsticky romantic comedies, and many of her earlier forays into drama had flopped. "I member right after Crash, I was pitching Sandra Bullock to a studio for another dramatic role and they went, 'I don't know, America doesn't think of her this way'." says Crash co-writer/ director Paul Haggis. "Now those same people want her for everything. It's hysterical."

But for the moment, there's a bull market for all things Bullock. "Every movie you hear of and every script I see, they say, 'We're going to go after Sandra Bullock for the woman,'" says Ben Affleck, who costarred with Bullock in 1999's Forces Of Nature.

Studio executives and film producers are courting her for every remotely suitable starring role available, in projects from a Disney family fable called The Odd Life of Timothy Green to Our Wild Life, a drama about an elephant orphanage. "Sandra Bullock is the golden girl," a top film agent says flatly. "She's getting offered all the scripts that matter. Everyone is rooting for her. I've never seen anything like it."

Whether by design or by accident, Bullock's choices signaled a new clarity of purpose, and Hollywood was ready to take her back. "Everyone loves a story of someone who redeems themselves from crap," says one veteran industry exec. "In Hollywood, everyone's worked on crap, so it's like, 'Oh, look! This woman who made all these crappy movies can come back! So even though I swim in a sea of crap, I too can come back!'"

The fact is, thanks to the intangible chemical reaction that creates stardom, Sandra Bullock has always had a knack for making audiences fall in love with her. "From the minute we saw her in Speed, she just had this quality that people want to be around," says Bradley Cooper, who costarred with Bullock in All About Steve. "It's like being around a source of light."

Now, with the Oscar, two big hits, and a massive outpouring of public support buoying her, the question remains where Bullock will go from here. She has stated on many occasions that she doesn't want to do romantic comedies. As she told EW last fall, she just doesn't have the stomach for them anymore: "We all know relationships don't work that way," she said, laughing. "It's a lie! It's a lie!

Speaking to EW last October as, unbeknownst to her, the roller coaster of her life was tick-tick-ticking up the crest of a hill, Bullock sounded philosophical. "You have really high peaks and you have some valleys," she said. "The nice thing is that something like The Proposal gives you is you get to say, 'Okay, I've done it. Something wonderful happened.' But you can't always have wonderful things, one after the other so just be happy with what you've got and that's it."

Also in this week's EW:
Bloody Good Ending: Sink Your Teeth Into Entertainment Weekly's True Blood Character-By Character Guide, As We Provide Intel On All The Key Beauties And Beasts
-Q+A With Alexander Skarsgard
-Q+A With Joe Manganiello
-Q+A With Stephen Moyer

Ben Affleck Calls The Shots: With Gone Baby Gone, The Actor Proved That He Could Direct. With His New Heist Thriller The Town, He's About To Prove It Wasn't A Fluke. Ben Affleck Opens Up To Entertainment Weekly About Reinventing Himself - And Why He Needed To Do It In The First Place

All this and more in the new issue of Entertainment Weekly; and Get The Daily Entertainment Scoop At EW.Com!
Click for more great Sandra Bullock pictures: