Sandra Bullock Goes Topless And Showers With Chelsea Handler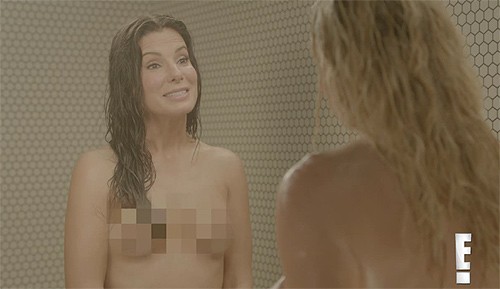 Chelsea Handler just kicked off the new season of her hit show on E!, and to mark the occasion of moving into an all new studio Sandra Bullock showed up to give her a little advice -- naked.

The Blind Side star joined the hostess in the shower and took the opportunity to slap Chelsea around a little bit as the two stood face-to-face, topless with their breasts pixelated by the cameras.

"First of all, stop calling yourself the white Oprah," Bullock says. "You have a responsibility to be a respectable talk show host," she says. "This comes directly from Oprah's mouth to my ear, to my mouth, out of my mouth, into your ear, down your body, out your vagina, up my vagina and out my a--..."

"Just because you're the only person on late-night television that has tiny little lady bits does not give you a free pass," she adds.

Bullock then pokes fun at Handler's drinking and her brief relationship with rapper 50 Cent last year; telling her to "lay off the booze" and to "stop sleeping with" her guests.

"That is why I have not done your show," she says. "I do not want to sleep with you."

Bullock then slaps Chelsea's face, telling her not to pee in the shower.

"We don't make pee pee in showers anymore," she says. "We make pee pee in the potty. Pee pee goes in the potty, okay?"

Chelsea's thrilled over her new studio, she recently told the New York Daily News, "I'm most excited about having a shower in my office, so that I no longer have to shower downstairs and then walk by the audience lineup in a robe... I'm not joking, that's what happened."

Chelsea Lately airs weeknights at 11 p.m. on E!

Check it out below...