Sandra Bullock Enjoying Single Life & Motherhood; Moving Forward 'With A Lot Of Dignity'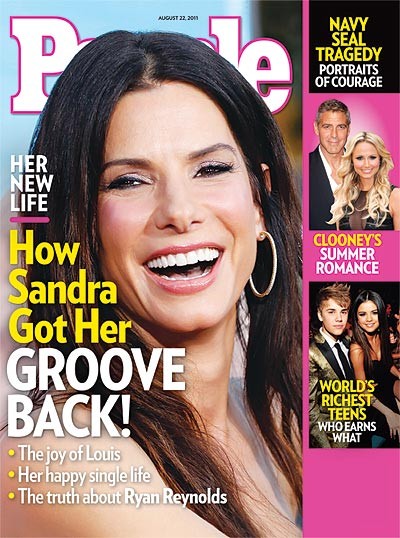 After keeping a low profile through a year of personal and professional change, Sandra Bullock, 47, looks like a superstar who is again ready to shine. She's managed to navigate a series of emotional milestones: passing the one-year mark of her divorce from her infamously unfaithful husband, Jesse James; celebrating the first anniversary this month of her official adoption of 19-month-old son Louis Bardo; and returning to acting with two dramas, Extremely Loud and Incredibly Close and Gravity. "She has endured a lot," a Bullock source tells PEOPLE, "and she has moved forward with a lot of dignity."

Bullock's new life as a single working parent is one she is building on her own terms, and one in which motherhood and career are balanced in sweet synchronicity. "Her No. 1 priority is her son," says the source. "No. 2 is work." Sharing her life with now-toddler Louis has made her success all the sweeter. "He is the center of her life, the most important thing for her," says a source. In New York City, her "Cajun cookie" (a term of endearment she's used for Louis) got to explore the quiet Vesuvio Playground near Bullock's SoHo townhouse and even paid a visit to the venerable Manhattan store Henri Bendel. When she moved on to London, Bullock stayed even further out of the spotlight as she worked long hours filming Gravity, playing an astronaut who alone survives a disaster in space and must find a way to return to her child on Earth. "I think the reason she has been so stealth is that since day one of bringing Louis home, she has been extremely protective," says a source. "She wants to protect him; it's primal and basic. She is not out and about a lot because the bubble she has created is vitally important to her. She knows the first two years are very important to a child, and she wants to give him the best."

As for a love life, the busy star laughs off romance rumors about her swoon-worthy male friends. Bullock and costar George Clooney were photographed looking chummy on the London set of Gravity, but their friendship goes back to the years when they were both starting out in Hollywood. She has also dismissed any Ryan Reynolds hookup gossip, declaring that he "is not my lovah…I don't get his loving after dark." The steadfast friends "are like brother and sister," a source confirms. They have been buddies since a producer introduced them years ago. "They love each other, but it is just a very close, wonderful friendship," says a source. "They are like family." Since starring in 2009's The Proposal, the pair plan to reteam soon for the action comedy Most Wanted. Bullock told PEOPLE of Reynolds in 2009, "I'm amazed by what he pulls off. And he smells good." Meanwhile Reynolds has said of Bullock, "When she walks into a room, that room is a better place."

Bullock's sense of humor helped considerably as she bounced back from the end of her almost five-year marriage in March 2010. "She amazes me and everyone else with how she is able to keep her sunny – and funny – ways about her," says the source. "I'm sure she gets angry, but she doesn't stay in that place." Filming across continents has kept her schedule full. She shot Extremely Loud in New York City, then went straight to London to make Gravity. "She was very keen to get back to work," says Extremely Loud director Stephen Daldry. "She threw herself in with her usual enthusiasm and energy, and she was very relaxed. She had little Louis with her, and it was a very familial environment on-set. She is so down-to-earth and real. I can't imagine anyone more truthful than Sandy."

As Bullock's little guy grows up – and the star stays firmly focused on the future – people who know her say she's ready to turn the page: new career moves, new travels, maybe even a new romance. "She has so much to offer," says a Bullock source. "She has left the baggage of last year behind, and she's not carrying it with her. She is ready for the next chapter of her life."


*Also In This Week's 'PEOPLE'*
-George Clooney & Stacy Keibler Dating: "They're Having Some Fun"
-Hollywood's Richest Teens: "I Go To School, I Clean My Room, I Get In Trouble," Says Angus T. Jones
-Kings of Leon Drunken Fights & Drama: "I'm A Damn Sinner In Every Way," Says Caleb

All this and more in the new issue of PEOPLE, on newsstands everywhere now!