Sandra Bullock And George Clooney Kick Off The Venice Film Festival With 'Gravity'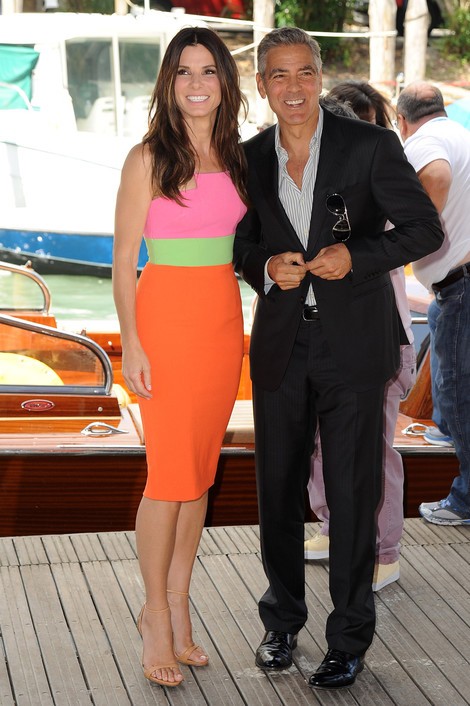 Sandra Bullock and George Clooney made an attractive, albeit platonic, pair at the start of the Venice Film Festival today. But wouldn't it be awesome if they started dating? Clooney recently split with Stacy Keibler, and as far as we know Bullock is single.
According to the National Enquirer, the actress, 49, is ready to start dating again and is revamping her look. A source claims: "She'll be trying out sleek new de­signs that will celebrate her curves, plus she's likely to experiment with some bold new hair­styles. Sandra is ready to move forward with a new chapter in her life."
The "Gravity" co-stars are in the Italian city promoting their upcoming film and took some time to pose for a photocall after arriving at the event in a motorboat. Bullock looked amazing in a striking colorblock dress by Alex Perry, while Clooney opted for a traditional black suit and striped shirt.
Later the co-stars attended the film's premiere in which Bullock rocked a fire engine red strapless gown and Clooney looked dapper in a tuxedo.
Their space thriller centers on two astronauts whose shuttle is destroyed during a routine spacewalk. All they have is each other and a dwindling amount of oxygen as they spiral into darkness. "Gravity" opens the film festival on Thursday and hits theaters in the United States in October.
Director Alfonso Cuaron talked about the suspenseful film last month. He told MTV, "The character is in constant danger, all the time from the get-go"
Check out more photos of Sandra and George...