Sandra Bullock Accepts Her Victory & Failure With An Oscar & A Razzie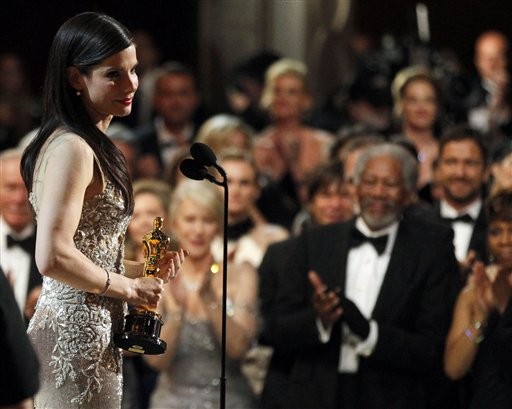 It's official - Sandra Bullock is just cool, really cool might we add. She's is a bonafide Hollywood star with a legitimately successful career (*cough, ahem Paris Hilton) punctuated last night with her Oscar win for Best Actress in "The Blind Side".
Last night, Sandra recast herself as a critically acclaimed thespian capable of outshining the mighty Meryl Streep as well as Helen Mirren, Carey Mulligan and Gabourey Sidibe.  Factor in a Razzie acceptance speech and we've got someone worthy of the world "cool". 
Sandra entered into a selective group of actors this year for being nominated for an Oscar and a Razzie – the awards for the worst performances, the anti-Oscars if you will – in the same year and she's the only actor thus far to actually win both prizes in the same year. Irony at its best!
She previously promised that if she won for worst actress or worst on-screen couple for her role in "All About Steve" alongside Bradely Cooper, she would gladly accept the award in person. Well, girl made good on her promise as she stopped by the Razzie Awards over the weekend with an acceptance speech in one hand and a wagon full of free "All About Steve" DVDs in the other, according to People.com.
The star joked, "I'm willing to go through [the script] page by page, read the line the way I did it in the film and, if anyone wants to give me a line read of how I could've done it better."
It's more than refreshing to see an actor that still has a sense of humor and despite all of her fame and success, can still poke fun at herself in venues other than SNL where it's basically a requirement.
"If you don't show up for something like the Razzies then you're a little hypocritical. You can't just show up for the good stuff, " she told the press after being nominated for her Razzies.
No doubt receiving an Oscar is the highest honor in Hollywood, but accepting a well-deserved Razzie in person makes Sandra so much cooler than many of her peers who either don't get the joke or won't join in on it. Hollywood has more than enough divas to go around and taking a page out of her Razzie playbook is just more fun. Bravo to Sandra for getting that it's just as important to accept your failures as it is to accept your victories and to do both with grace and a laugh. She was definitely the weekend's big winner!
Story by Nicole Bagood
Starpulse contributing writer