Sanctus Real, Total Axxess Brought Hope To Marshall, MN, A City Devastated by Tragic Teen Deaths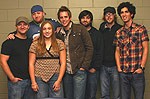 On September 11,
Sanctus Real
and Total Axxess, traveled to Marshall, MN for The Face of Love One Stop Tour to bring hope to the city, which has been devastated by eight tragic teen deaths over a three-month period. Band members and Total Axxess host Jayar spent time with area families who lost loved ones, Total Axxess and local station, Refuge Radio, broadcast from Marshall, and Sanctus Real performed a free concert for the whole community at Marshall Senior High School.
As one of the top Christian rock bands today, Sanctus Real members are also about being the "face of love" and tangibly expressing their faith in action. Together with Total Axxess, they were looking for a community to serve with The Face of Love ONE STOP Tour. After Total Axxess listeners were encouraged to write in and express a need in their community, and asked how that need could be met, numerous emails came in from all over America. The letter that sealed the trip to Minnesota came from 14-year-old Katie, who met the band and Jayar on the tour.
Sanctus Real and Jayar also met with Brett Boon, a father devastated by the loss of his daughter. "My daughter, Chelsea, was one of the students who died this last six months," says Boon. "I just wanted to personally thank everyone who participated in the Face of Love One Stop Tour. You do not realize how much you helped.

"One of the things I experienced is a loss of dreams, the dreams any father has for his daughters. With all the excitement leading up to the concert, radio show and the lunch with Sanctus Real, I didn't find myself thinking of not being able to walk her down an aisle, or holding a baby--I thought about just how incredible true Christian people are, and that brings me hope.
"Sanctus Real I thank you. You are the real deal. I send my love…for a couple days, there was hope, there was love, there were dreams. Maybe not the ones I wanted. But at least for Monday and Tuesday there was a Face of Love."
Following the ONE STOP tour, Sanctus Real will begin a multi-stop, 35-plus-city tour with Superchick Oct. 5. Fans will be able to see Sanctus Real play its hits, including the current Top 10 multi-format hit single and title track to
The Face of Love
, as well as the album's first single, MTV video and No. 1 radio hit, "I'm Not Alright." The song was written as an expression from the band members that was inspired by their own real-life heartache and rediscovered joy. In fact, the emotions behind each track on The Face of Love are vulnerable and undisguised, making this album the band's most accessible project of their career and exhibiting the band's progression both musically and lyrically.
More information on Sanctus Real, its touring and mission work can be found at
www.sanctusreal.com
,
www.emicmg.com
and
here on Starpulse
.
Total Axxess airs live on 97 radio stations nationwide, giving listeners access to their favorite Christian artists. More information on Total Axxess can be found at
www.totalaxxess.com
,
www.chrsn.com
.