Samsung Users Enjoy Jay-Z's 'Magna Carta... Holy Grail' A Few Days Early (And For Free)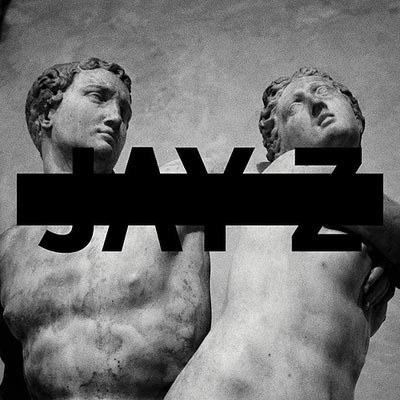 Jay-Z's partnership with Samsung came to its fruition on Thursday with the release of his 12th studio album, "Magna Carta... Holy Grail."

Thanks to a deal with the electronics giant, the rapper's new album was made available to a million Samsung customers today, three days ahead of its official release on July 7.

Hova's new album was promoted via a series of commercials by Samsung that aired during the 2013 NBA Finals, the first of which featured the rapper in the studio discussing the new music with producer Rick Rubin"The album is about, like this duality of how do you navigate through this whole thing, through success, through failures, through all this and remain yourself," he said.

The new album was released for free to the first million Samsung Galaxy S III, Galaxy S4 and Galaxy Note II users via a new app.

Two weeks ago, Billboard magazine announced that the free downloads via the Samsung deal would not count toward the figures used to determine music sales charts.

But some fans may be turned off by having to get the new app to get the free album, for which Samsung spent $5 million to get the rights to distribute it early to a million of their users, over privacy issues.
Billboard.com reports that many are questiong the new app required to download the album, including rapper Killer Mike, who tweeted a photo of the permissions the app requested with the caption, "I read this and........'Naw I'm cool.'"
Killer Mike's phone screenshot: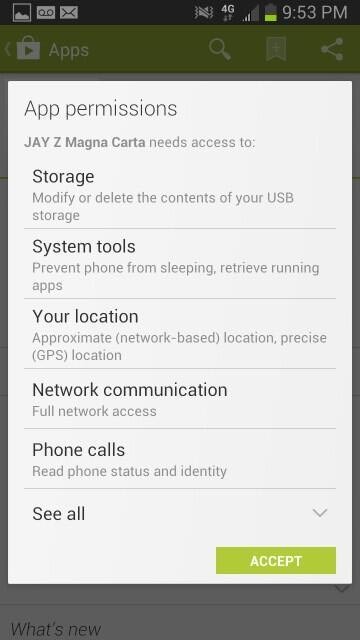 Producers of the new disc include Swizz Beatz, Timbaland and Pharrell Williams; while collaborators include Rick Ross, Justin Timberlake and Jay's wife, Beyonce.