Sammy Hagar: 'I Miss Van Halen'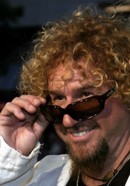 Former Van Halen frontman Sammy Hagar still misses his former band mates despite their acrimonious break-up.

Hagar parted company with the Jump hit-makers in 1996 after 11 years as the group's frontman, claiming he had been fired after a bust-up with founder/guitarist Eddie Van Halen.

While the rocker hasn't forgiven Eddie and his drummer brother Alex, he still believes they made great music together.

He tells The Pulse of Radio, "You know, I miss Van Halen. I don't like them f**kers... Bad guys. But I miss 'em, you know. I miss that musicianship and that creative spark and that friction that made it all work, you know."