Sammi Hanratty On The Rise With 'Mom's Night Out'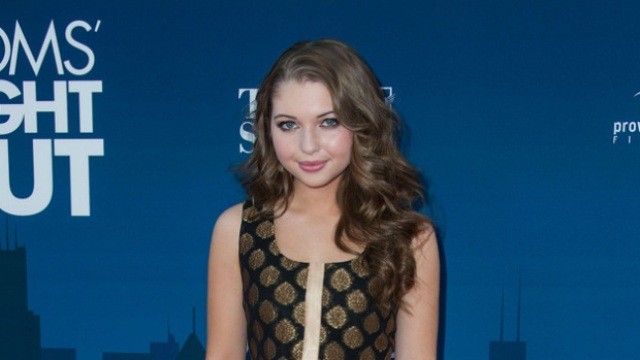 Sammi Hanratty has come a long way since she played one of Mack Gerhardt's daughters on The Unit. The young actress is now starring in the faith-based family comedy Moms' Night Out, which released this past weekend, and has a recurring role on WGN America's supernatural series Salem. BFTV caught up with Sammi on Friday to discuss both projects and whether or not she feels like they're taking her career to the next level.
In Moms' Night Out, Sammi takes on the character of Zoe, the understandably rebellious teen daughter of a pastor and his wife (played by The Middle's Patricia Heaton). The film's cast also includes Sarah Drew and Sean Astin. What made the project something Sammi wanted to be a part of?
"I just loved it because it honors moms," she explained. "It's not the usual movie, which is really great. I love that it's a comedy film that you can take the whole family to, and everyone will laugh."
But if you think Zoe's got a wild streak, you haven't seen Dollie Trask, the role Sammi has in Salem. WGN America's first scripted series is set during the Salem Witch Trials - and it's unashamedly dark, twisted and representing some of the worst of humanity in its battle between witches and Puritans. What's it like to be working on such a heavy show and then also shooting a family-friendly comedy?
"It's just so fun," Sammi enthused. "That's one of my favorite things about acting. You get to go and take on a role that's completely opposite of you. It's so fun for me to be able to tap into different emotions."
On top of that, she also played Megan Acosta in the third season of Crackle's brutal web series Chosen, which features ordinary individuals forcibly recruited into a murderous game where they're tasked with killing complete strangers. Clearly, she's not flinching away from any opportunity in front of her.
"It is so crazy and so fun," she said of working on Chosen. "And it's so different too filming a web show, where you film it so fast. It's really fun, and it keeps you going while you're filming it. I love action, and I'm hoping that for season four you'll see a lot more of me."
Between the supernatural and the homicidal, there's no doubt that the projects Sammi is taking on now are much more adult than when we used to see her on The Suite Life of Zack & Cody. Does she feel like her career is evolving to a more mature level with her recent roles?
"Definitely. It does," she told us. "And I'm really fortunate to be able to have gone through the kid genre and be able to be a child actor, and now as I'm getting older, to do things I normally wouldn't be able to do."
"I'm really proud of the film I did called Zoe Gone on Lifetime," she continued, referring to the movie in which she played teenage mom Jennifer Lynne. "I did my research and I put everything into it. I had a baby in the film!" So she's most definitely not your kid next door anymore.
That doesn't mean she doesn't look back fondly on her past projects, including that role on The Unit. "It was really great, because at that time I was actually recurring on three shows - The Suite Life of Zack & Cody, Pushing Daisies and The Unit," she reflected. "It was like going home to family. I was working with my real sister; my sister [Danielle] played my sister on the show. It was fun doing that. And Max Martini, who played my dad on the show, I love him. He's just one of the sweetest, most wonderful people I've ever met."
So as she continues to transition her career, what is she looking for next? "Hopefully Salem will pick up some more episodes for me for season two. I also would love to do movies," Sammi continued. "A lot of different roles so that you guys can really see what I'm capable of. I've never really done a mythical creature type of thing. I think that would be fun. One of my dream roles is to be a mermaid, but like a dark mermaid!"
While her characters might be pushing expectations on-screen, outside of acting this energetic and personable actress is doing some real good in the world. "I'm really involved with a charity called Smile Train, and it works with kids who are born with cleft [palates]," she told us. "I'm not sure where I'm going and when I'm going, but I'm traveling to go and actually work with them on some of the operations." We think Jen Gerhardt would be proud.
Moms' Night Out is in theaters now; Salem airs Sundays at 10 PM ET/PT on WGN America (check your local listings for specific channel). For more on Sammi, you can follow her on Twitter (@SammiHanratty1).
(c)2014 Brittany Frederick. Appears at Starpulse with permission. All rights reserved. No reproduction permitted. Visit my official website and follow me on Twitter at @tvbrittanyf.