Samantha Ronson Charged With DUI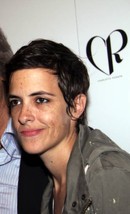 DJ Samantha Ronson has been charged with a misdemeanor DUI (driving under the influence) following her arrest last week.

The star, who once dated Lindsay Lohan, was pulled over by traffic cops who allegedly caught her speeding back to Los Angeles from a weekend in Las Vegas.

Ronson has been charged with two counts of DUI, and driving with a blood alcohol level over .08 - by police in San Bernardino, California.

She faces a maximum of six months behind bars and a $1,000 fine, according to TMZ.com.