Samantha Ronson Arrested On Suspicion Of DUI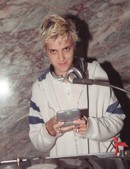 Celebrity DJ Samantha Ronson was arrested on Monday morning on suspicion of driving under the influence (DUI).

The ex-girlfriend of Lindsay Lohan was travelling home to Los Angeles from Las Vegas following a set at Sin City nightclub Lavo on Sunday night.

Cops pulled her car over at 10.30am local time near Baker, California on suspicion of speeding and asked her to perform a routine field sobriety test.

Ronson reportedly failed to impress officers with the challenge and was asked to take a breathalyzer test. She refused and police arrested her at the scene.

The star was taken to the Baker substation and tested over the legal limit for alcohol, according to TMZ.com.