Sam Hennings Back For More On The 'Memphis Beat'
TNT's Southern cop series Memphis Beat just kicked off its second season yesterday. To get the dish on what's coming along, I sat down with star Sam Hennings, who plays Charlie "Whitehead" White, the veteran partner of Dwight Hendricks (Jason Lee). Here's what Sam had to say about the new season and his impressive career (which spans longer than my entire life!).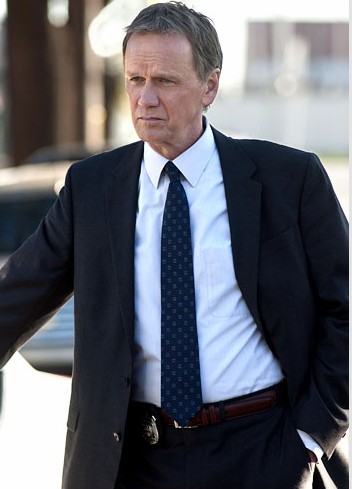 Tell us about where your character is headed this upcoming season.
The whole season is such a richer bouquet from last [season]. The first year is such a growing issue - figuring out who's who and what works and what doesn't work. They decided to bring in new showrunners and all new writers. To their credit, they have done such a wonderful job. [They] give us a little more backstory of who these individual characters are.
You find out a little bit more about where Charlie White came from, his family, and we expand the precinct. Alfre [Woodard] and I go off and do some things together. Right off the bat, you're gonna see a little bit of a confrontation between Rice and Whitehead. That situation plays out over the next five episodes. In episode two I have a bit of a head knock with Sutton [DJ Qualls]. We go into a morgue because a body from a funeral home is missing.

They decided to open up the palate of the music. Last year, we pretty much focused on Elvis and this year, they've decided to expand that.
Now that you've had a season to get the character under your belt, how has season two been for you?

I'm having such a great time with Charlie White. When they brought the idea to me, I thought, "Wow, this is such a great opportunity to play a Southern character full of integrity." Last year, I had a great time doing it, and lucky me, the audience really took to him. It's been great.
What's it like working on a series that's in a location we wouldn't normally see on television? You're set in Memphis but you film in Tennessee - both places that don't usually go represented.

New Orleans is absolutely terrific. Outside of the heat, you couldn't ask for anything better. The history is so rich here, the people are so dear. It's a gorgeous city, but the humidity's like 80-90 percent.
The people of Memphis have been very giving to us. They understand that we're here because of financial reasons; in order for us to get the project made, we have to be here. We do film exterior stuff of Jason and I [in Memphis].
You've done quite a few crime dramas in your career. Every year it seems we have another one. What do you think makes the genre hold up so well?
I think the excitement of the police world, the intrigue of solving the crime, is just interesting and entertaining for someone. [It allows them] to get completely out of their head after a long day.
How has playing a cop impacted you? Does it change the way you look at the world?
I think that happens with every character we play. I do so much research as an actor, by the time I finish I'm pretty much wall-to-wall that character. You get to experience that stuff and it makes you a better person. We don't give people enough credit. We don't give them enough respect.

You're also a writer - how much does your writing inform your acting, and vice versa?
I recently finished a screenplay called The Littlest Cowboy, and it takes place in 1963 in Southwestern Texas. It took me two years to finish it. When I finished that I had such greater respect for the writer. I felt like I needed to send a little note to every writer I had worked with.
It changed me as an actor because I realized how important the written word is. Before, I'd memorize my lines but I would have a tendency to throw this out or throw that out, not knowing the writer spent maybe three weeks figuring that one line out. My writing experience has made me a much better actor and surely a more respectful actor. You understand what the process is. It's a tough, tough task and you give your all - but that's the beauty of it.
Over your long career, you've done all sorts of projects, from westerns (The Magnificent Seven) to sci-fi (Dollhouse) to textbook drama (JAG). Do you have a favorite?
It's like children. They're all different but I love them all dearly and in different ways. Quite honestly, I cannot remember any project that I have not immensely enjoyed, no matter how difficult. I've always been so appreciative to have the opportunity to do what I dearly love. I'm more excited today than I have ever been.
With a career that long, what keeps things fresh for you? What do you look for?
If it excites me. If I think I can bring something to it. Just something that I go, "Wow. I can relate to this."

Do you have any future projects on the horizon? Any dream roles you'd like to tackle?
Nothing comes to mind. I'm just excited about everything.

My thanks to Sam Hennings for this interview! Be sure to check him out when Memphis Beat hits TNT every Tuesday night at 9 PM ET/PT.