Salvador Santana Band To Release Debut Album, 'SSB,' Feb. 26

The Salvador Santana Band (SSB), featuring band leader, vocalist, composer & keyboardist
Salvador Santana
, is set to release its debut full-length album
SSB
on February 26. The musically and lyrically charged disc, for which Salvador Santana also served as Album Producer, comes out on the artist's VBE imprint with distribution through Tsunami Label Group. From the bracing rhythms of the opening track "Oh Yea Yeah" through "Why Yo," a politically-skewed dancehall track featuring Asdru Sierra of
Ozomatli
on lead vocal and trumpet, SSB pulses with a fresh, high-spirited sonic fusion of conscious hip-hop, rock, funk, R&B and Latin sounds.
Leading with innovation and seamless interplay, the Salvador Santana Band make an original and confident debut with "SSB." Other stand-outs include the irrepressible "Summer's Day," co-written and produced by DJ Nu-Mark (
Jurassic 5
) and the slinky "Imacallya," co-written by Ryan Tedder of
OneRepublic
. Another collaboration, the bravura "Me & U," features a searing guitar solo from Salvador's father, legendary musician
Carlos Santana
(it was co-written by SSB and Andy Vargas of the Santana Band). Highlights also include the beat-heavy and wordplay dense "Hella Tight," the sultry flow of "In My Dreams" and the group's hot, funky cover of "Do It ('Til You're Satisfied)."
Throughout the tight 13-song set, Salvador Santana's deft rap poetics complement the soulful intonations of fellow vocalist Quincy McCrary (formerly of
Quetzal
and Burning Star). The Salvador Santana Band's current line-up also features: bassist Emerson Cardenas (who's been with the group since its formation), guitarist Woody Aplanalp (
Lauryn Hill
, Nels Cline, Thomas Mapfumo, etc.), drummer Tony Austin (who also sits in with soul legend
Solomon Burke
) and ex-Ozomatli multi-instrumentalist Jose "Crunchy" Espinosa.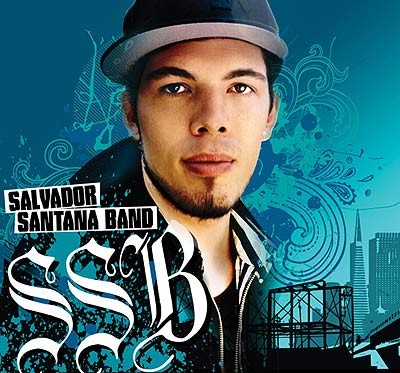 The Salvador Santana Band originally formed in 2004, and in 2005, released the 5-song EP
Demo
. They got their start on the road supporting Santana in the U.S. and Europe, and have since toured with
Los Lonely Boys
,
Robert Randolph and the Family Band
and
Rusted Root
. They have also played major festivals including Bonnaroo, High Sierra, San Francisco's North Beach Jazz Festival and Jazz Aspen Snowmass. Most recently, the group toured nationwide in 2007 with the
B-Side Players
.
Salvador Santana recently appeared with Carlos Santana on the nationally syndicated PBS show Tavis Smiley (Salvador has collaborated with Carlos on a number of projects, including co-writing 1999's GRAMMY®-winning instrumental track, "El Farol," from the Santana Band's smash album
Supernatural
). The Salvador Santana Band will be touring in support of their debut album
SSB
beginning with a date in Santa Cruz, CA on February 28. Upcoming festival performances include SXSW in Austin, TX and the New Orleans Jazz & Heritage Festival.
For more information, log on to
www.salvadorsantana.com
SSB Track Listing:
1. Oh Yea Yeah
2. Funky Thang
3. Summer's Day
4. Sounds Good
5. Me & U (featuring Carlos Santana)
6. In My Dreams
7. Imacallya
8. My One True Love
9. Hella Tight
10. Lo Que Digas Tú
11. Do It (Til Your Satisfied)
12. Menéa
13. Why Yo (Feat. Asdru Sierra of Ozomatli)
Upcoming Tour Dates:
February 21 Winston's San Diego, CA
February 23 Temple Bar Santa Monica, CA
February 28 Moe's Alley Santa Cruz, CA
February 29 Little Fox Redwood City, CA
March 17 Take It El Paso, TX
March 19 Launch Pad Albuquerque, NM
March 20 Santa Fe Brewing Company Santa Fe, NM
March 21 The Summit Durango, CO
March 22 Fly Me To The Moon Telluride, CO
March 25 Sherpa & Yeti's Breckenridge, CO
March 26 Mesa Theater Grand Junction, CO
March 27 The Calypso Crested Butte, CO
March 28 Belly Up Aspen, CO
March 29 Cervante's Masterpiece Denver, CO
April 1 Aggie theater Ft. Collins, CO
April 2 Samana Lounge Vail, CO
April 3 Trilogy Wine Bar Boulder, CO
Lo Que Digas Tu
Me & U
(Feat
Carlos Santana
)
Summer's Day
(Streaming audio and/or video links may expire without notice)