'Salt': Strong Enough For A Man, Re-Written For Angelina Jolie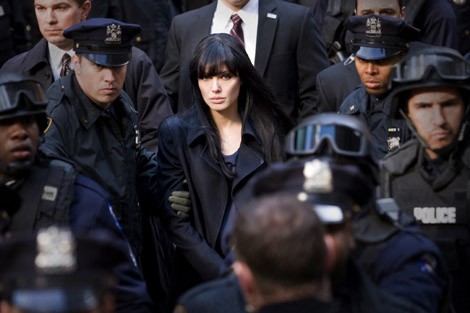 This weekend, Angelina Jolie stars in "Salt," a fast-paced, espionage thriller with an intelligent script and plenty of car chases and explosions. Jolie plays Evelyn Salt, a CIA agent who is accused of being a Russian spy. The movie has a very intelligent, twist-filled script, written by Kurt Wimmer, that will keep audiences glued in their seats.
Jolie wasn't the first choice for the lead role, however. Originally, in 2007, Tom Cruise was set to star! Wimmer's first draft of the script followed Edwin A. Salt as he tried to prove his innocence of being a sleeper spy. When Cruise left the project, Jolie got her hands on the script and soon Edwin became Evelyn. The result is one of the summer's most thrilling action movies and a new face in the pantheon of great ass-kicking female characters.
In "Salt," Jolie doesn't rely on her beauty or physical appearance. The actress performed many of her own stunts in the movie, many of which put her in potentially dangerous situations. Jolie's performance is akin to Sigourney Weaver's character Ripley in the "Alien" franchise because of her brutal and stripped down performance. Director Phillip Noyce puts Jolie through some pretty vicious physical demands that, male or female, take a strong and possibly crazy person to perform.
Jolie isn't new to the action movie genre. She became a blockbuster name in "Lara Croft: Tomb Raider" and its sequel. She also starred in "Mr. & Mrs. Smith" with future husband Brad Pitt which also allowed Jolie to flex her fighting and action skills.
The difference with "Salt," however, is that Jolie gives not just a great physical performance, but a solid emotional, character-driven performance as well. Like Matt Damon in the "Bourne" trilogy and Daniel Craig as James Bond, Evelyn Salt a not the wise-cracking philanderer that most action characters have been reduced to. She says very little throughout the film and is as tougher than most male characters in recent memory.
Jolie has been praised for her strong dramatic work over the years, but now audiences will see that she can take a beating and keep on ticking just like any male action star out there.