Salman Rushdie Writes Satirical Verse On Kim Kardashian's Divorce Drama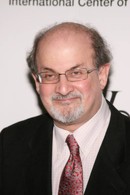 The breakdown of Kim Kardashian's short-lived marriage has attracted the attention of the literary elite - celebrated author Salman Rushdie has turned the tabloid fodder into a poem on Twitter.

The reality TV star announced on Monday she has started divorce proceedings against her husband Kris Humphries after just 72 days of marriage.

Kardashian was quick to hit back at reports she wed to cash in on TV and magazine deals, insisting she "married for love," but the star has still been the subject of online gossips, including celebrity 'Tweeters'.

Even literature legend Rushdie could not resist using the scandal to inspire a quick-witted poem on his Twitter.com page.

He writes, "The marriage of poor Kim (pound) Kardashian was krushed like a kar in a krashian. Her Kris kried, not fair! Why kan't I keep my share? But Kardashian fell klean outa fashian."