Salma Hayek's Ugly $5,700 Boots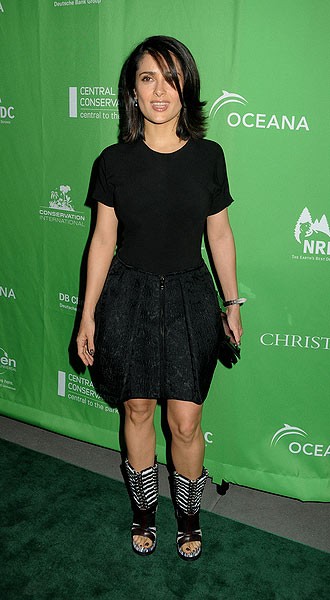 Salma Hayek appeared at Christie's Green Auction: A Bid to Save the Earth last week wearing an unusual pair of black and white Balenciaga platform boots. Money certainly doesn't buy taste. Despite the high price tag, we think they're ugly.

Salma stars in the upcoming film "Grown Ups" alongside Adam Sandler, Kevin James, Chris Rock, Rob Schneider and David Spade. In the film, five former basketball teammates gather at the lake house where they celebrated their biggest victory to mourn the passing of their late coach. The friends realize that just because they've all grown up and started families doesn't mean that they've lost that old spark.

She is also starring as Kitty in the "Shrek" sequel "Puss in Boots," set for release in 2011. Antonio Banderas will play the titular character while Zach Galifianakis will play Humpty Dumpty.
What do you think? Leave a comment below!