Salma Hayek Sizzles In The November Harper's Bazaar UK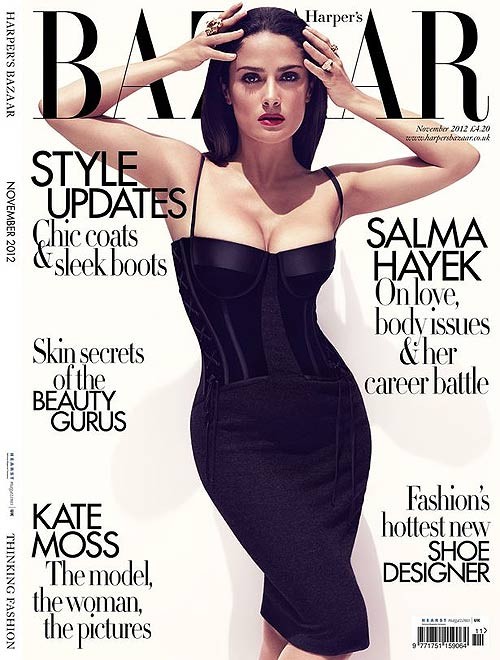 Salma Hayek graces the pages of the November issue of Harper's Bazaar UK, showing off her sexy curves and even going topless in one hot shot.

The star of Here Comes the Boom, which opens this Friday, talked about getting older as an actress and her lack of desire to be the beautiful and thin.

"The worst thing you can be in Hollywood is a woman and over 40," she says. "On top of that, I have an accent, am dyslexic, short and chubby. You name it I have it, but I am here. I must be the luckiest girl in the world to be working."

The wife of French billionaire François-Henri Pinault also shares her secrets to looking so youthful at 46.

"I am on the limit of chubbiness because I love my food and my wine. It's not the best for fashion, but it's good for my mood. I am happy because I eat," she says. "I am 46; I will not have Botox. You know why? Because I eat! I eat the fat, I eat the vegetables, I eat everything. If you exercise too much and you don't eat enough, it takes its toll on the skin. Everything starts aging.

"If you don't eat carbs, you slow your metabolism down," she adds. "And you know what? You look miserable. The truth is I just don't have the drive to be the prettiest and the thinnest. I can be happy for other people for their beauty. Learn to be happy for others and you can never run out of happiness."

See more of Salma in the November issue of Harper's Bazaar UK and at HarpersBazaar.co.uk!