Salma Hayek Had To Talk Tough To Win 'Savages' Role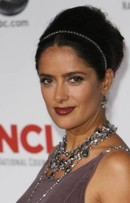 Actress Salma Hayek had to prove she was tough enough to play the head of a drug cartel in Oliver Stone's upcoming movie Savages, because the director feared motherhood had turned her "all soft".

The Frida star has scaled down her work load since becoming a mother to four-year-old daughter Valentina and settling down with her husband Francois-Henri Pinault, and her comfortable home life had Stone worried she wasn't right for the leading role in the crime thriller.

Hayek tells Redbook magazine, "I'm playing the queen of a drug cartel in an Oliver Stone film. He asked if I'd gone 'all soft' because I'm a mother. I said, 'Yes, but I can be the devil if I need to, because after all, I'm an actress.'"

Savages also stars John Travolta, Uma Thurman, Benicio Del Toro and Blake Lively.