Salma Hayek Freaks Out Over Snake (Video)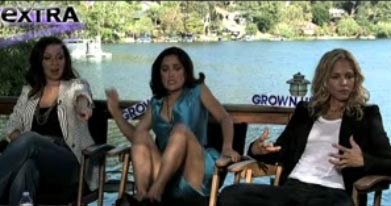 Salma Hayek, Maya Rudolph, and Maria Bello were on Extra doing an interview for their new movie Grown Ups when a snake decided to crash the scene. Salma Hayek proceeded to freak out!
While her other co-stars weren't so fearful of the snake, Hayek was literally climbing all over Maya Rudolph to get away from the creature. As she stepped onto Maya's chair in stilettos, she screamed "Somebody do something! No!"
Hayek's over-the-top reaction comes to a surprise to anyone who has seen her in From Dusk Till Dawn, where she was featured in a scene as a stripper using a boa constrictor during her performance.