Salma Hayek And Antonio Banderas Impressed Their Kids With Their 'Puss In Boots' Voices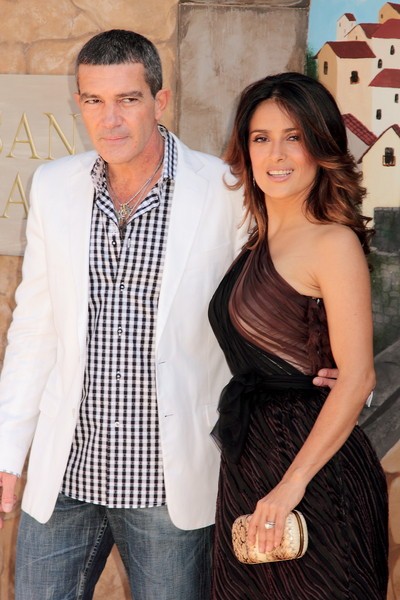 Salma Hayek didn't want to tell her daughter she was the voice of Kitty Softpaws in the new Puss in Boots movie. She wanted to preserve the magic of animated movies. But just taking her daughter out to another movie exposed her.
"I was worried about that because it's like the Santa thing in a way because she really thinks there's cats there," Hayek said. "I thought I had some time but I took her to see one movie and in the previews, I see his cat and I go, 'Oh no, I have two seconds to break it to her.' And before I could say anything, my character came on screen and I spoke."
It turned out, having a famous mommy starring as the cat was even more impressive than believing the cats were real. "She goes, 'Oh my gosh, mommy, that cat sounds just like you.' I said, 'Well, actually, it is me.' I had to explain to her that it's not real, that it's drawings in the computer and then you talk. I think she was maybe a little confused for a couple of days but now she loves it. She's so proud of me."
Antonio Banderas, who's played the voice of Puss in Boots in the Shrek movies, still gets respect from his now grown-up kids. "10 years ago, my kids were still kids, but now my oldest is 26," Banderas said. "He's got a rock band in Brooklyn, so he just said to me something like, 'That's a cool cat, dad.' That's pretty much his comments about it."
Hayek is excited to have a whole generation of kids discover her work. "I sure hope so because I'm too old. The ones that discovered me a long time ago don't want to go to the movies anymore. So I need a new generation or else I die."
Puss in Boots opens Friday.