Sally Kirkland To Play Desperate Pizza Delivery Woman In New Movie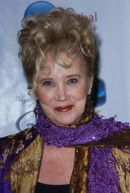 Award-winning movie and TV veteran Sally Kirkland has signed on to play a socialite-turned-desperate pizza delivery lady in new movie Alice Stands Up.

The Oscar-nominated Anna star, 70, will reteam with her African Chelsea director Brent Roske for the new film, in which she plays a well-to-do woman who discovers her life savings have gone due to a bad business deal set up by her late husband.

Her character has to deliver pizzas and work as a door-to-door saleswoman to make ends meet, while reconnecting with her estranged daughter and autistic son.

Kirkland tells WENN, "I laughed on almost every page. Brent pitched it to me as a drama but I think it's very, very funny. I'm so excited to get to work again with Brent. He's an actor's director and really lets you discover the scene and play."

And producer Shane Stanley is convinced the film will be a hit - because so many people have found themselves having to resort to desperate measures to survive the global economic crisis.

He adds, "The script is about people picking themselves up during tough times."