Sacha Baron Cohen Causing Unrest In Arab-American Community Over His Portrayal Of Middle Easterners In 'The Dictator'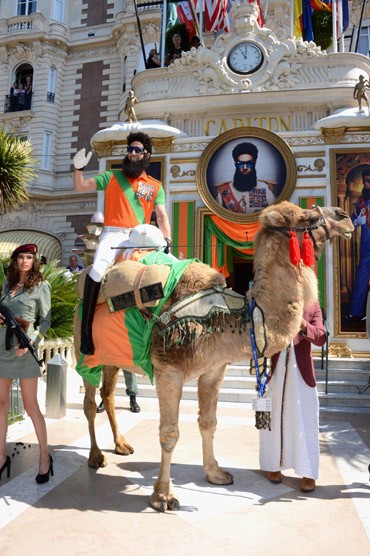 Stop us if you've heard this one before - Sacha Baron Cohen is causing controversy with his latest film.

The comedian who brought his Da Ali G Show characters Borat and Bruno to the big screen is at it again with The Dictator, this time firing up the Arab-American community over his portrayal of fictional Middle East dictator Admiral General Aladeen, leader of the (also fictional) country of Wadiya.

The heads of an Arab-American group are accusing Cohen of giving their community a "negative stereotype" with his latest portrayal.

The star caused a stir in France on Wednesday, when he arrived at the opening of the annual Cannes Film Festival aboard a yacht with George Clooney's ex-girlfriend Elisabetta Canalis, where he appeared to murder her and dump her body over the side in a black bag.

"I have not seen the film, but based on the trailer and interviews that I have seen him do in character, it really seems to be that it's perpetuating a negative stereotype against Arabs and therefore Arab-Americans," said Nadia Tonova, director of the National Network for Arab American Communities, in an interview with E! Online.

"And I feel it's harmful to the discourse," she adds, "especially these days when we are seeing the number of profiling incidents here in the U.S. against Arab-Americans."

And that's not all - Cohen arrived at his hotel yesterday on the back of a camel while dressed as a jockey. The term "camel jockey" is often used to describe Middle Easterners in a derogatory fashion.

Cohen also arrived at this year's Oscars in character and "spilled" an urn of white powder all over red carpet host Ryan Seacrest in another stunt to promote the film.