Ryan Seacrest Reveals American Idol Judges: Randy Jackson, Mariah Carey, Nicki Minaj And Keith Urban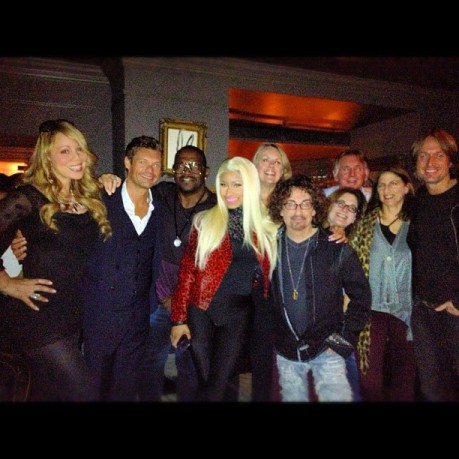 Ryan Seacrest has revealed the upcoming lineup of judges for the next season of American Idol. Randy Jackson has retained his spot at the table, and confirmed judge Mariah Carey has been joined by Nicki Minaj (finally) and Keith Urban.
Seacrest tweeted the above photo with the message, "It's official, your new IdolJudges are @MariahCarey, @NickiMinaj,@KeithUrban & @Yo_RandyJackson!"
He also posted, "Everyone gave a heartfelt toast about being on the show after we ate last night. Cant wait to see the first contestants today. #IdolJudges."
Minaj had been in talks with the show for months, amid rumors that Carey was angry that another female judge would be joining her. Jackson was recently reported to have been pushed to a mentoring role - but now he's back and will continue to be the only original judge in the group.