Ryan Reynolds: 'I Was Convinced That Atlanta Was Trying To Kill Me'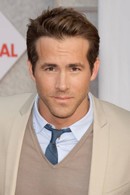 Actor Ryan Reynolds is eager to stay away from Atlanta, Georgia after feeling cursed while shooting new movie The Change-Up there.

The hunky actor had a run of poor luck while working in the city - and he's convinced the place didn't like him.

He says, "I was pretty convinced early on that Atlanta was trying to kill me. We started the movie, the first day of shooting I got there, and it was 5am. Jason Bateman and I, we have identical trailers... And I get to set and I notice that something in the parking lot is on fire. And I say, 'That looks a lot like Jason Bateman's trailer, which looks a lot like my trailer. That's Bateman's trailer right?' And they said, 'No, no that's yours.' So my trailer is engulfed in flames."

However, the actor's handlers came to the rescue and found Reynolds a replacement trailer.

He adds, "It was the most ostentatious, gigantic two-story trailer... I felt terrible going in and out of that every day. It just did not suit me at all. So two days later, I get to set, and there's just water coming out of every hole in this thing. And it flooded, a pipe broke in there."

Reynolds, who split from wife Scarlett Johansson last year, was given a third trailer and his on-set problems ended - but his Atlanta troubles were far from over.

He continues, "The following month it just sort of snowballed. My hotel room flooded. My dog got sick. I came down with a slight case of divorce - and I broke my pinky finger. I was begging to get out of Atlanta at that point. No offense to Atlanta, it's a fantastic place, but it really wants my blood. I would wake up each morning and have a safety meeting with myself. And, by the end, I'm just about to get out of there and of course a freak ice storm hits and freezes it solid."

"I would have moon walked home, had they let me."