Ryan Reynolds Assures 'X-Men' Fans That 'Deadpool' Movie is Still Happening

Ryan Reynolds has reassured fans his role as the Green Lantern won't interfere with a movie about his X-Men anti-hero Deadpool, insisting the mutant spin-off is "still in the works."

Reynolds is set to take over the big screen as the Green Lantern this summer, and devotees have expressed fears that plans for a Deadpool film will be shelved.

But the hunky actor is confident he will eventually be able to reprise his role as Deadpool, the sword-wielding mercenary he played in X-Men Origins: Wolverine.

He tells Britain's Empire magazine, "That's still in the works. I'm not sure how logistically it works in terms of scheduling, but yeah, I want it to happen."

And Reynolds admits he has no qualms about starring in two superhero franchises, adding: "Those two universes are completely different.

"Superhero movies are so pervasive now in pop culture, I don't look at them as superhero roles as much as just roles. They're such different people. Deadpool is about a guy in a highly militarized shame spiral, Green Lantern is more universally themed."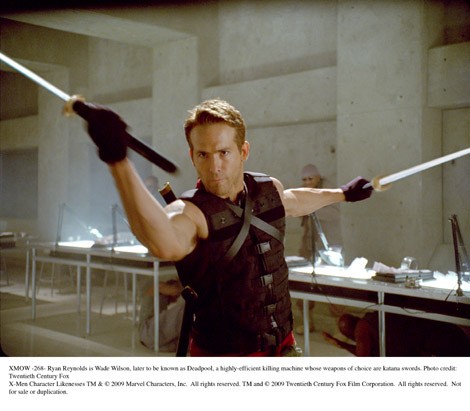 Click for more great Ryan Reynolds pictures: