Ryan O'Neal Sued Over Warhol's Farrah Fawcett Portrait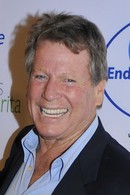 Ryan O'Neal is facing legal action over an Andy Warhol portrait of his late partner Farrah Fawcett.
 
Lawyers for the University of Texas have filed papers asking a judge to order the Love Story star to hand over the painting, which is worth an estimated $30 million. Fawcett is said to have left her entire art collection to her alma mater, which she attended in the 1960s.

However, a spokesperson for O'Neal has dismissed the lawsuit as "completely ridiculous," alleging the piece is one of two that Warhol produced of the Charlie's Angels beauty in 1979.

The rep says, "Ryan O'Neal's friendship with Andy Warhol began 10 years prior to his meeting Farrah Fawcett. When Ryan introduced Andy to Farrah, Mr. Warhol chose to complete two portraits of her, one for Ms. Fawcett and one for Mr. O'Neal."

"Mr. O'Neal looks forward to being completely vindicated in the courts."

Fawcett lost her battle with cancer in June 2009 at the age of 62.