Ryan Murphy Reveals Original 'Glee' Finale Plot Involving Cory Monteith's Finn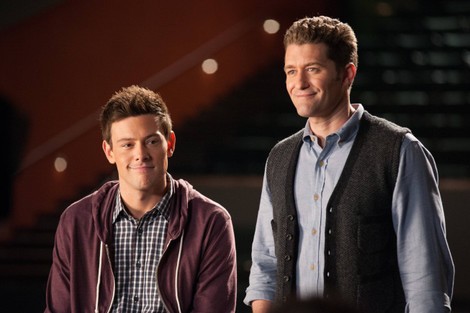 Ryan Murphy shared a rough draft of Glee's finale during Cory Monteith's private memorial in July, which has now been published by Entertainment Weekly.
Murphy told those gathered that he wanted Cory to bookend Glee by appearing in the first and last scenes of the series. Matt Morrison's character Mr. Schu and Cory's character Finn shared the first scene of the pilot. If it were not for Cory's tragic death, the final scene would have featured Finn and Lea Michele's character Rachel.
Murphy said during his eulogy, "The ending of Glee is something I have never shared with anyone, but I always knew it. I've always relied on it as a source of comfort, a North Star. At the end of season 6, Lea's Rachel was going to have become a big Broadway star, the role she was born to play. Finn was going to have become a teacher, settled down happily in Ohio, at peace with his choice and no longer feeling like a Lima loser. The very last line of dialogue was to be this: Rachel comes back to Ohio, fulfilled and yet not, and walks into Finn's glee club. 'What are you doing here?' he would ask. 'I'm home,' she would reply. Fade out. The end."
Murphy also said his relationship with Cory helped him become a better father, sharing, "From the beginning Cory and I had a father-son relationship, which at that time I have to admit I did not want. I didn't know how to do that. But Cory—from a broken home, a lost boy—needed a male figure to provide guidance, support, a direction. In retrospect, Cory was kind of my training wheels for becoming the father I am today with my own child."
The eulogy was released as part of Entertainment Weekly's year-end issue, in which several stars deliver "Late Great" essays for deceased contemporaries.