Ryan Gosling: 'Women Love Him Because He's Kooky'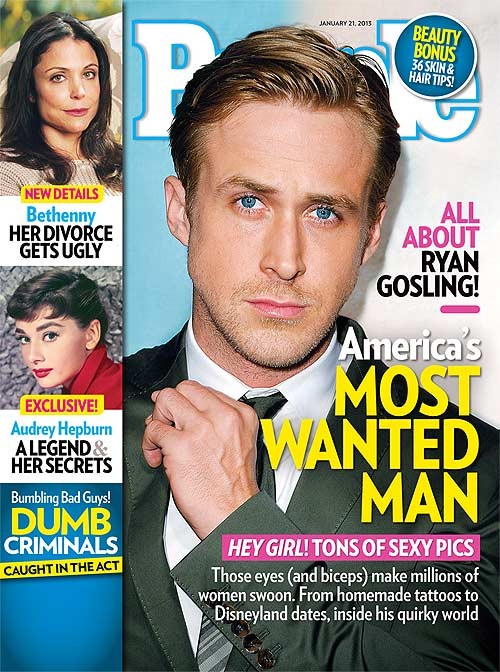 The man, the meme, the mama's boy: PEOPLE goes inside the private world of Ryan Gosling, who has driven fans to obsession – and reveals what's really going on with his love life. In the past year, the 32-year-old actor cheered on his mom at her college graduation, doted on his dog George and homeless pups at an Austin pet rescue group, honed his blogworthy biceps via Muay Thai kickboxing, and worked on four films, including the new thriller Gangster Squad.

But the guy who makes both double-breasted suits and tank tops look cool still struggles to wear the sex-symbol thing lightly. "You just try not to think about it, and you take advantage of the fact that you have these opportunities that you can control -- who you work with and what you make," Gosling told PEOPLE at the Jan. 7 Gangster Squad premiere in L.A. "You try and do the best [you can] with that freedom."

In addition to many, many pairs of skinny jeans, the year also brought some bumps in the road for his romance with actress Eva Mendes, 37, whom he fell for in late 2011 while filming The Place Beyond the Pines. Independent and smart, the Miami-born Mendes "is feminine and flirty, but she's also low-key and a guy's girl," says a source. "It seems like she keeps him grounded." They broke up last March, only to reunite in May. But they haven't been spotted together since Nov. 26, sparking heated fan speculation – wishful thinking? – that he might be back on the market. Sorry, but the two are still going strong – so much so that Gosling's mom, Donna, boasted of raiding Mendes's closet for her premiere outfit. "The nice thing about their relationship is they don't put so much pressure on it," says a source who knows both stars. "It doesn't feel overly complicated." Adds a Gosling source: "Ryan and Eva get along so well because she's not needy or smothering. They just work."

Since his breakout role in 2004's The Notebook, the Ontario-bred actor has mostly stuck to indie productions, with Gangster Squad his biggest budget film yet. A restless kid who was homeschooled by his single mom after starting fights, the former Mickey Mouse Club star has struck a few colleagues as aloof. But others offer raves. "I don't think he's cocky," says stylist Blair Levin. "He's down to earth and super nice." His Gangster Squad director Ruben Fleischer calls him "funny and charming. When you're with him you feel different. He has a magnetic quality – larger than life."

For all his studied quirks – ballet classes! ukulele! Marlon Brando voice! – Gosling has a traditional side when it comes to relationships. "Women love Ryan because he's just kooky," a Gosling source tells PEOPLE. "He's definitely in touch with his childlike side."

The serial monogamist, who gushed that he had "two of the greatest girlfriends of all time" (referring to Rachel McAdams and Sandra Bullock, reportedly), deserves his rep as "an incredibly sweet boyfriend," says a source close to him. "He has such good manners." Though Mendes has said she's not the marrying kind, Gosling "adores kids and can't wait to be a dad," says another source. "He's going to make an amazing father one day."

*Also In This Week's People*

Bethenny Frankel: New Divorce Details
Audrey Hepburn Exclusive: Intimate Memories & Personal Photos
Exclusive Book Excerpt: Supreme Court's Sonia Sotomayor Opens Up In New Memoir
Bradley Cooper & Zoe Saldana – It's Off Again: "they Seemed Happy Together"