Rutledge Wood, Sam Witwer Set For 2014 Toyota Pro/Celebrity Race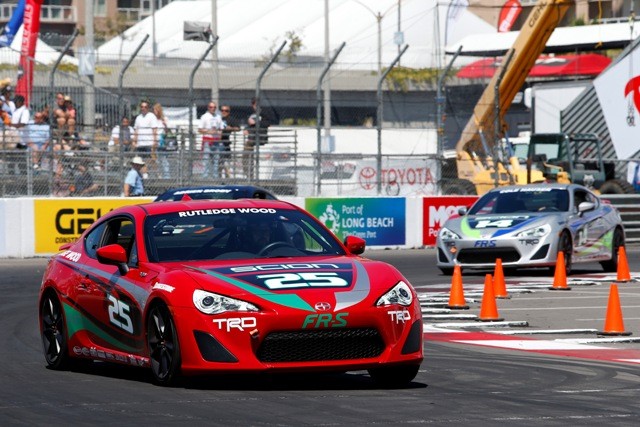 By the time you're reading this, the 2014 Toyota Pro/Celebrity Race will be just hours away. At yesterday's practice and qualifying day, BFTV finally caught up with our friend and defending champion Rutledge Wood - who by virtue of his victory now starts in the Pro category - and newcomer to the field, but not to our audience, Sam Witwer. Here's what Rut and Sam had to tell us about their plans for handling this race and their future projects.
Rutledge is being a little, shall we say, cautious about his chances. "I think the only way that we'll have a shot is if we steal the keys to Al Unser Jr.'s car," he quipped. "Al is so good on this track. He won here six times in an IndyCar, and in a Scion he can do it without breaking a sweat. Meanwhile, I will be back there like I'm sawing logs. It's going to be crazy."
"So at this point my only hope is to team up with my best friend Kyle Petty and hope he can get us to the front," he continued. "Kyle and I, we're just going to ride in a line and we're going to follow Al to the front. And then, with one lap to go, we're just not going to break and we're just going to run into Al. We're just going to cream him."
It's not just Al that has Rutledge's respect. He also told us which of the incoming group of celebrities has caught his attention - including the guy that nearly beat him last year, Brett Davern, who also captured the pole position on Saturday. "I've got a lot of faith in Brett," Rutledge told us. "Brett has actually been watching video a lot. I think Brett's going to do great.
"Colin Egglesfield will do well. I think Cole Hauser, Cole's really good," he added. "Tricia [Helfer] got some pointers from [Michael] Trucco."
Now that he's racing as a pro and not as a celebrity, Rutledge has to deal with the extra time advantage given to the celebrity drivers. "We start 30 seconds back and 30 seconds is a long time," he commented. "Or if all these crazy people stuff it into Turn 1, we'll be on them before they know it."
But as awesome as it would be to defend his title - which can be done, as TV and radio personality Adam Carolla won in 2012 as a celebrity and 2013 as a pro - that's not really what Rutledge is racing for on Saturday. He just wants to enjoy the drive.
"It's so fun to be on this track because we really shouldn't be on here. This is such a crazy track that the whole time you feel like you're running from the police," he laughed. "But since I got to come back, for me, it's just all about having fun. I want to help everybody else have a good time. If there's little areas where they're not as fast, [I'll] go and help them. Just have a good time."
And indeed, we spied Rutledge giving pointers to his fellow TPCR drivers between stints in their Scions, because that's how good of a guy he is. He's so good, in fact, that he even gave us a few spoilers for the upcoming season of Top Gear.
"The show will be back in the summer. I don't know exactly when," he revealed. "We're leaving the country. We went to a whole bunch of places we've never been before. Nobody's in jail yet...Like always, the producers are really good at going bigger and better and heavier."
Rutledge may have to stick with his plan of relying on Al to get him to the front, as his 1:46.59 lap time in qualifying sees the defending champ starting squarely at the back of the field.