Rutledge Wood, Michael Trucco Impress At 2013 Toyota Pro/Celebrity Race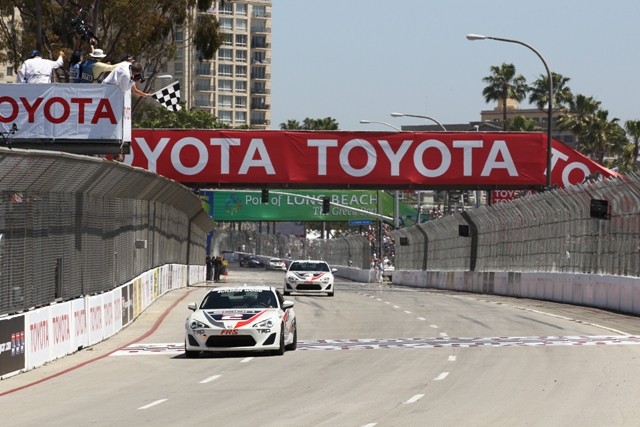 Saturday was a big day for a pair of talented people, as Rutledge Wood and Michael Trucco impressed among a star-studded field at the 2013 Toyota Pro/Celebrity Race. Top Gear co-host Rutledge captured his first TPCR victory, while Fairly Legal star Michael finished a strong third, thwarted only by impressive driving on the part of Awkward's Brett Davern. BFTV caught up with Rutledge and Michael after the race to look back on their successful showing.
Things started with a bang during Friday's qualifying session, during which both of them distinguished themselves in opposite ways. "I broke my first race car," admitted Michael, who ended up "nose deep in about four rows of tires. They couldn't fix it, so they had to give me a new car."
"There's a lot of like a scolded puppy," he continued, explaining how the accident affected his outlook on race day. "You realize 'That's not how you take turn one. Don't do that again because that's not good for you, for the car, for anybody.'" But he wasn't about to let that one slip-up stop him.
Meanwhile, Rutledge set the fastest time amongst the field and was awarded the pole position for Saturday's race, even though it took him awhile to figure that out. "When I pulled up [after qualifying], Rita, who helps put this whole event on, said 'Congratulations, you got the pole' and what I heard was 'Hey, good job,'" he said with a laugh. "It just didn't sink in until I saw the gigantic check that said Victory Junction."
By winning the pole, that meant he also took home the People Pole Award, which comes with a $15,000 check made out to the winner's charity of choice. For Rutledge, that was Victory Junction, a North Carolina children's camp close to his heart. "My best friend Kyle Petty started it in honor of his son Adam Petty, who was killed racing," he explained. "It's a camp for kids with chronic illnesses, but it's also a state of the art hospital. They have a great medical staff [and] it's all designed to look like this racing-themed adventure park. A lot of drivers have built buildings there, from Dale Earnhardt Jr., Michael Waltrip, Tony Stewart, Jimmie Johnson built the bowling alley. It's just the happiest place on earth." You can find out more about Victory Junction by visiting the camp's official website.
He had the chance to net an additional $5,000 for his charity if he could take the checkered flag on Saturday, but even though he thought this year was his best chance to take the title, Rutledge wasn't supremely confident. "I'll be honest, I was so excited about winning the pole that I just kind of put the race out of my mind," he said. "I just said if I could just repeat what I just did, then I would be in really good shape, but I just didn't think it would happen."