Rutledge Wood, Michael Trucco Impress At 2013 Toyota Pro/Celebrity Race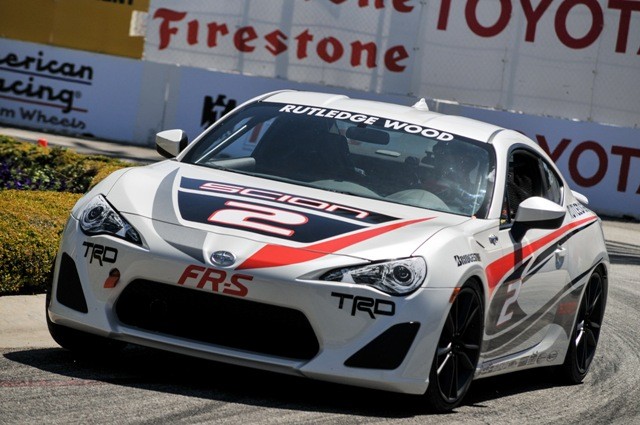 Both Rutledge and Michael were favorites going into the race, but once they actually put wheels to the track, they weren't expecting anything to come easy. "Everything surprised me," reflected Michael. "The start surprised me. Rutledge and I actually got passed on the first 500 feet of the start by Mark Steines and Glenn Faber. They had a better start than Rutledge and I on the inside, so that surprised the hell out of me."
Agreed Rutledge, "I thought for sure the race was going to come down to Michael, Mark and I. I was just asleep apparently on the start. Mark and Glenn, those guys were gone, and I thought, 'Well, I had a great time. I won the pole. I can still be proud of that.'"
Yet just as soon as they were taken by surprise, the pair began to claw their way back to the top of the standings, where they would stay. "I got around Glenn, and at some point I guess I got around Mark," said Rutledge, who eventually recaptured the lead and maintained it for the majority of the race. "I just tried to not look back again, and somehow I won."
Not too far behind, Michael was contending with Dakota Meyer, and eventually won that battle when Dakota's car spun out. "He made contact with me going through the hairpin," he explained. "He did what you do - it's racing. He gave me a couple of taps like 'Just so you know, I'm here.' So we continued our racing, and then we were on the back side around turn six, and it was getting pretty greasy as the laps were winding down. I looked in my rear view mirror, and I saw his tail go way out wide, then it whipped around way out the other way. And I thought, 'Even if he just gets wide that'll give me a cushion of a couple seconds,' and then I saw the white smoke." Dakota recovered to finish fourth, but Michael had left him behind.
There were only two other incidents during a relatively clean race: Olympian Jessica Hardy also lost control of her Scion, while Andy Bell, racing in the pro division, damaged his when he collided with a tire wall. Bell's crash was a further motivator for Rutledge, who glimpsed it on the track's giant video board. "I saw a pro was in the tires, which turned out to be Andy Bell, and that's when I went 'I might need to go faster,' if they're that close," he said. "I couldn't tell where they were, but I said 'If they're showing a pro getting in trouble, those guys are coming.'"
Michael was competing for the win up until the final laps, when first-time racer Brett emerged to become a serious threat to both him and Rutledge. "He was just good," said Michael of the MTV star. "Brett learned a lot in one weekend of training. He made a really great move on me, and there's a point where you just have to concede and go, 'OK, you got me.' And he got me."
"I got a little squirrely the last couple laps because of Brett. He was bringing the heat," agreed Rutledge, who had built up a decent lead but slowed down out of consideration for last-place finisher Wanda Sykes. "I never used my mirrors until I saw this little glimmer in my side view, and it was Brett. I had this weird feeling that I was going to lose it on the last lap or two, and I am so thankful I did not."