Rutledge Wood, Michael Trucco Gear Up For 2013 Toyota Pro/Celebrity Race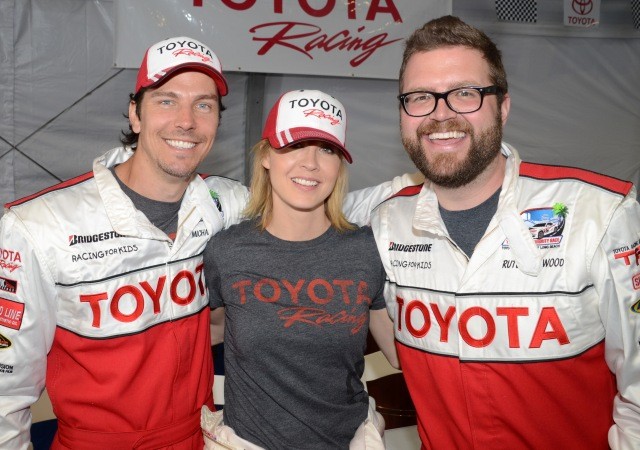 The 2013 Toyota Pro/Celebrity Race is just days away, and it's going to be one heck of an event. Amongst the field, BFTV found two familiar faces: Fairly Legal star Michael Trucco and Top Gear co-host Rutledge Wood. I caught up with Michael and Rutledge at the recent TPCR Media Day in Long Beach to find out what they're thinking going into this weekend's race, as well as what else they have in the works.
It's Michael's second time racing, after competing in 2011, and at Media Day he was introduced as the "co-favorite" to take the title. Does he feel like the favorite? "I don't," he said. "Mark Steines is by far the favorite. I'm competitive with Mark, but there are so many wild card factors out here."
One of those factors being that success in the TPCR requires a lot more than just keeping your foot on the gas pedal. "It's about consistency," Michael explained. "There are guys who can drive a car fast; you have to put together laps that are always consistent."
Michael's previous TPCR experience is also a factor in his favor, but it's not necessarily the ace in the hole that you might think it would be. "You always learn something on every circuit. Every lap you make on a track you learn something," he continued, but pointed out that the cars for 2013 are different from the ones driven in 2011. This year, the Scion FR-S replaces the Scion tC. Comparing the two, he said, "That was a front wheel drive car, this is a rear wheel drive car. But I think these cars are better. I think that they're faster and they're more predictable."
His goal the second time around is to stay out of trouble. "I got spun out by a Jonas brother last time I was here," he recounted with a laugh. "Kevin Jonas put his nose right under my rear quarter panel [and] he spun me out in the hairpin." But Michael got his revenge. "I chased him for about two or three laps and just harassed him on the back bumper," he added. "He kept looking up in his mirror and he eventually hit some tires."
In addition to competing in the TPCR, Michael recently shot a pilot for ABC entitled Killer Women, which stars his former Battlestar Galactica castmate, Tricia Helfer. She plays a Texas Ranger and he co-stars as her supportive brother in the project executive produced by Modern Family star Sofia Vergara. ABC hasn't yet announced whether or not it will go to series. Those looking for a more readily available fix should look to the second season of Fairly Legal, which was released last Tuesday; you can find it only at Target.com.
For Michael, the 2013 TPCR is the second time he's achieved an aspiration that he set for himself more than a decade ago. A lifelong fan of motorsports, he aimed to participate in the Pro/Celebrity Race as soon as he became aware of its existence. "For about the last twelve years, I went to racing school and that was my goal," he reflected. "It took till 2011, but I realized my dream, and then I got invited back for this one."
Hopefully, 2013 will be the year that Michael finds himself in victory lane - because with his smarts, passion and focus, he really is a strong candidate to take the title, even if he might not be convinced of that.