Russian Prime Minister Calls For Jailed Punk Stars' Freedom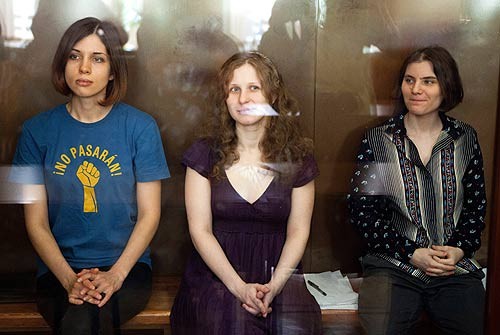 Russia's Prime Minister Dmitry Medvedev has challenged the nation's lawmakers to release jailed punk rockers Pussy Riot.

Three members of the provocative group were each sentenced to serve two years behind bars in August for their part in a Moscow protest gig, during which they took aim at Russian leader Vladimir Putin.

The incarceration of unmasked rockers Nadezhda Tolokonnikova, Maria Alekhina and Yekaterina Samutsevich prompted an international outcry with celebrities like Patti Smith, Madonna, Green Day and the Red Hot Chili Peppers defending the trio's right to free speech and insisting their imprisonment on "hooliganism driven by religious hatred" charges was unjust.

And now Prime Minister Medvedev has called for the release of the Pussy Riot stars, insisting, "Prolonging their time in prison in connection to this case seems unproductive."

Medvedev stated, "The term is very strong. I would even say a terrible burden. I don't want to replace the judge... but the time they have already served is, in essence, more than enough to make them think about what happened."