Russell T. Davies Discusses Sci-Fi Hits 'Torchwood' & 'Dr. Who'
You are going to be at Comic-Con 2009 in San Diego with David Tennant.
That's right! He's coming over. I can't wait to see him. It's been a few weeks since I saw him, so I miss him.
Is this your first time at Comic-Con?
It is. It is my first time at a convention full stop. I've never done a convention before, so that's exciting.
I think it will be a real hit when both you and David show up. Will you be talking to fans?
We've got a proper panel booked in. I'm doing two signings, I think. I am in the hands of the people organizing it really. It is literally brand new to me, so don't know how it works. I hope I have time to look around and enjoy it.
I hope so too. Now I feel I should come to San Diego just to meet both of you in person, being such a fan [we both laugh].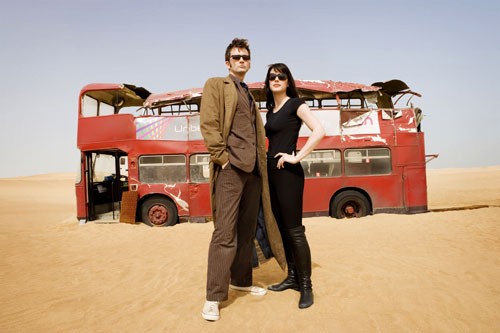 Dr. Who: Planet of the Dead - David Tennant and Michelle Ryan © BBC
Speaking of David Tennant, is he one of your favorite actors? You have worked with him before. He was in the BBC series "Casanova" in 2005 which you wrote and worked on.
He is. He's one of my favorite people. I've been very lucky to work with some brilliant actors. You do try to work with them again as often as you can. I've worked with Penelope Wilton on a number of projects. I've worked with David. I've worked with Chris Eccleston twice on "The Second Coming" and on "Dr. Who." Lesley Sharp keeps popping up in everything I ever write because I simply love her. I can't bare it when I haven't worked with her for a couple of years. That's been one of the greatest things about five years of "Dr. Who" is the sheer range of talent I've been able to work with. From great classical actors like Derek Jacobi to brand new talent, like there's an actor called Russell Tovey who's in the horror show "Being Human" which is about to come on BBC America. He's an absolutely brilliant actor. So it's just been wonderful. Absolutely wonderful! Actors are the life blood of the industry. We are in their hands and I'm so grateful for the good ones and I'd love to work with them all again.
There are definitely many talented actors who've been on "Dr. Who" and whom you've worked with. Speaking of young talent, the new "Harry Potter" film is filled with young talent.
I can't wait to see ["The Half Blood Prince"]. I watched "The Order of the Phoenix" on repeat yesterday just to get up to date on "Harry Potter" to remind myself where we were. I shall be going straight to see that. That is always the key; "Dr. Who" and "Torchwood" has had a lot of young talent. In "Dr. Who" someone like Freema Agyeman comes along who played Martha Jones, [one] of the Doctor's companions - she's now in every British drama going. She's in the British version of "Law & Order." She's been in Dickens adaptations on the BBC. She's the nicest woman and so devoted.
If you could see yourself working with one of the stars of "Harry Potter" who would it be: Daniel Radcliffe, Emma Watson, Rupert Grint or Tom Felton?
I've never met them. I am sure they're going to be very busy for many years to come. I think they are marvelous. I'd love an opportunity to work with people like that.
Given the state of current TV, there seems to be an over abundance of reality television shows. How do you picture the future of broadcast?
It's a tricky one that. As a dramatist, I'm a very big fan of reality television. I think most of us who work in drama are meant to throw up our hands in horror and say, 'it's a terrible thing.' I love those programs when they are well made. If they are as well made as any piece of television, I think they have a lot to teach drama people in the way they tell a story. The way that Susan Boyle story went across the world from Britain's Got Talent, I'd love to see a character in a drama become that successful and that in demand. There's a lot to learn off that show. The spontaneity and unexpectedness and being able to spin a story on the spot, they're beautifully packaged as dramas. I think the great reality shows are actually structured and planned and edited as dramas. I think there's a lot to learn.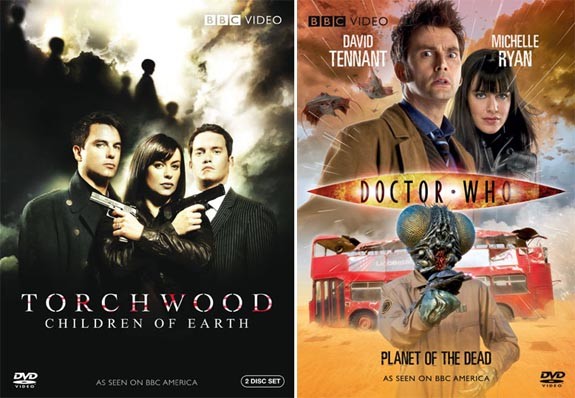 Image © BBC
The worse thing you can do is turn a reality show into a drama. In their ability to get straight to the heart of the viewer there's got to be something to learn from them. I am fascinated by it. I've got no idea where that's heading. I know people keep on saying reality television is taking over and drama is dying, but every time someone in television says that something is dead, it simply has a quiet ten years and then reinvents itself and becomes top of the ratings. Like talent shows were dead for many many years, and then along comes "American Idol." The moment people say sitcom is comparatively dead, you just wait five or six years, we'll be living in sitcom land again. They'll be the thrill of change. They'll be the thrill of adapting. They'll be brand new. So no matter what happens drama will just keep going and keep adapting. It's just impossible to predict how and its good that's it's impossible to predict how, otherwise everything would be very mechanically constructed. So it will be quixotic and unusual and unprepared and will take us all by surprise. I hope I'm still young at heart enough to see what direction it goes in to.
Torchwood: Children Of Earth
premieres on BBC America Monday, July 20th 9-10:15pm
Dr. Who: Planet Of The Dead
premieres on BBC America Sunday, July 26th 8-9:15pm
Both shows will be out on DVD and Blu-ray on July 28, 2009
Story by
Doshka Harvey
Starpulse.com contributing writer