Russell T. Davies Discusses Sci-Fi Hits 'Torchwood' & 'Dr. Who'

If you are seeking a thrill, excitement, adventure and are tired of boring summer reruns, then BBC America is the channel to stay tuned to this week. The sci-fi hits "Torchwood" and "Dr. Who" are back with brand new episodes and trust me when I say, you will not be disappointed.
"
Torchwood: Children of Earth
" begins today on BBC America with the first of a five part week long mini series that will leave you at the edge of your seat. The "Dr. Who" one hour special, "
Planet of the Dead
," premieres on Sunday, July 26th and you are guaranteed a bus ride which will, let's just say, certainly not take you to your intended destination.
Due to such a momentous event, Russell T. Davies, creative genius and head writer/executive producer behind both "Torchwood" and "Dr. Who," was kind enough to grace us with an opportunity to chat about each show and the magical work he does.
I'm very excited about the upcoming 5 night mini series showing of "Torchwood" on BBC America. The series has been doing very well in America. How do you feel about that?
It's joyous actually. Always nice to be appreciated anywhere. But, I don't spend much time with fandom or researching fandom. It's been made very clear to me that there's been this ferocious love of "Torchwood" from American viewers. If that gets through to me, then it must be really strong because I don't pay that much attention. It's been a joy. You only make these things to be watched. And, the fact that people pick them up and love them and invest in the characters means a whole world to me. That's the only reason we all work so hard all day, everyday - all the designers, writers, actors and producers. That's what we want; so when it happens across the world, across the Atlantic, that's a real joy. So thank you. Thanks to everyone that's watched it.
What you guys are doing is definitely paying off. Why did you decide to do a 5 part mini series instead of a full season? I believe in the UK there are usually 13 episodes per season for a series.
Yeah, 13 episodes are actually quite rare in Britain. "Dr. Who" sort of paved the way for that. So, it is a rarity. But, what happened in Britain is that we were promoting "Torchwood" unto the main channel - for the first time it moved unto BBC One, which is the big primetime terrestrial channel. It is the biggest channel in the UK by far. So we needed it to be a big event. We needed it to arise. To re-launch actually. Not to reboot. Just to reach a bigger audience. A much bigger audience. We wanted to do that with a huge explosion and Jane Tranter who's the head of drama, the Controller of drama simply suggested a five day continuous format that I instantly loved. I just leapt upon it.
I said I would love to write something like that because that's just exciting and new and scary and brilliant. And, I have to say, none of us were entirely certain it would work. I always liked the format, but you can never guarantee if something's going to work on television. Until, last week, actually, when it transmitted in Britain and it was a huge success. It won the slot every single night for five nights running. It was the biggest drama of the week and the audience built as it went along through the week. Thank God it was successful! [he laughs].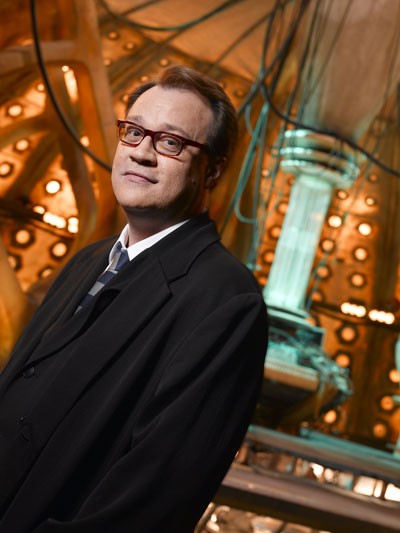 Russell T. Davies © BBC
Actually, colleagues in the UK were telling me about the mini series and how they would look forward to getting home to watch each episode because they were so excited to see what would happen next.
There was properly an amazing buzz about it. You would literally overhear people talking about it. They'd talk about it on the radio. They were buzzing about it on television and people were going home to watch it every night, which was such a thrill. That's what we designed it for.
All the characters in "Torchwood" have been on quite a journey it seems - apart from Capt. Jack (portrayed by John Barrowman); do you feel Gwen's (portrayed by Eve Myles) story has reached a conclusion with "Children of Earth" now? Do you see her and her husband Rhys (portrayed by Kai Owen) happily nursing children at home?
One of my joys in life is getting to write for Eve Myles because she came into "Dr. Who" with just a little nice one off part in the first series. She's such a brilliant actress to work with. I love her. In this "Torchwood: Children of Earth" mini series she's absolutely center stage with Kai Owen who plays Rhys as well, her husband. That's a story I hope I keep on writing forever. There aren't any concrete plans for series 4 "Torchwood" yet because it's just too early. It only transmitted last week [in the UK]. Things in television turn slowly, but I would have a million more stories up my sleeve for Eve and for Gwen and for Rhys as well just because that's what writing is all about you know. You find a great actor like that; you just cling onto them [he laughs].
John Barrowman has a few projects which will be keeping him busy and Eve Myles is soon to be a mother. Do you foresee another 5 episodes?
YES, [he interjects] real life will keep getting in the way [we both laugh]! I literally don't know. It's partly up to the BBC. These are difficult times where money is tight everywhere. No one is throwing money around at the moment. But, I will have to wait and see what the BBC wants. Let's be honest, if they say we want "Torchwood" on 52 nights in a year, I would say, 'Yes I will do that' immediately [he states quite excitedly]. If they say we want a "Torchwood" film, I'd go and do that. I have loved the five episode format. I think it really works. Certainly, I think the continuous story format works, which I would like to carry forward in "Torchwood" now. But, we will see. It's literally early days because, you know, I'm not the one with the money. Someone's got to give us millions of pounds to make this so I shall wait and see what they want.
You say you are not the one with the money, however, in 2007 you were voted number 15 in Guardian's Top Media 100 ranking [he giggles as I ask]. Do you feel that you are that powerful, or do you feel like you're still at the whim/call of television companies and producers? You are so good at what you do.
It would be disingenuous to say that I'm still young [just starting out] because I know that I can get to the meat to commission or channel controller faster than a lot of writers could. I'm in a very lucky position. But nonetheless, I think you are only as good as your ideas. No one freely gives away money. If I walked into BBC One with a brand new idea for a 6 part drama, that means they'd have to give me 6 million pounds. No one freely gives away 6 million pounds. I think that's good. I think that's healthy. I think that stops it being a corrupt system. Within the system you have to earn the right to exist every single time. So, you know, I am aware of my position. I am very lucky. So, I hope I don't abuse it. I hope I treat it responsibly really.
Oh, I don't think you have been abusing it so far.
I like a bit of corruption [he jokes]. A bit of abuse [we both laugh].
Let's get into "Dr. Who" a bit. You've written your final 4 scripts or 'specials' for "Dr. Who" since you are stepping away from the series and David Tennant is also leaving as the 10th Doctor. The new series and 5th season of "Dr. Who" will begin in 2010 and will be written and produced by Steve Moffat with a new and 11th Doctor played by British actor Matt Smith.

Having gotten a preview of the first special "Planet of the Dead," which will be followed by "The Waters of Mars" later in the year, I must say that I was impressed. You and David Tennant work so well together. Neither of you ever disappoints.
Working with David Tennant as the 10th Doctor, do you feel there's anything else you wished you could have done with him or his character?
To be honest, that's what these last stories are. I feel by the time you see the last episodes, especially the great big finale, I think you will feel you've been through almost every emotion that's possible. Of course, that's not true. Of course, there's always something new to explore. If I stayed there a hundred years, I'd always have something new to say. But, I do feel I'm getting out before I get bored…before I get jaded...before I get repetitive. I am going out while I still absolutely love every single second of it. And, knowing that this is a really rare and good opportunity in television…to be able to plan ahead...to be able to say a year in advance, 'this is my finale and this is the Doctor's finale,' so we can prepare for that, is a really lucky position. Normally in television shows get cancelled or commissioned on a very ad hoc basis with very little notice. So to know that…to be able to say I can spend the whole of 2009 telling the story of the Doctor's farewell, is a really great luxury. The sort of luxury a novelist has, I think, and that's been really wonderful. I can promise you, you will be crying your eyes out. We actually sort of finished editing his last episode yesterday and I was so excited. I think it's a joy and I can't wait for you to see it.
I look forward to seeing it. I love David Tennant. Actually, when Christopher Eccleston (the 9th Doctor) left the show, I thought I would not be happy with the 10th Doctor, but when I saw David Tennant I just loved him.
[Laughing at my comment] That will happen all over again now when Matt Smith arrives as the next Doctor. You will spend five seconds being resistant to him and then you will love him. I promise.
Steve Moffat, he's taking over after you leave "Dr. Who."
Yeah, that is why I can leave with such a happy heart. Because, I know I'm leaving it in such safe hands. Actually, safe is absolutely the wrong word to use with Steve Moffat because he's wild and dangerous and clever and imaginative. So, he will just have a ball with the program. He will have the most exciting time. I'm just thrilled about the future; I think it's going to be glorious.