Russell Simmons Named PETA's Person Of The Year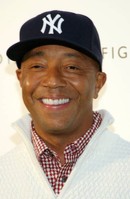 Vegan rap mogul Russell Simmons has been named People for the Ethical Treatment of Animals' Person of the Year.

Simmons replaces former president Bill Clinton as the most humane celebrity in America, according to the animal rights activists.

Announcing the news on Thursday, PETA bosses state, "Over a decade ago, the Def Jam co-founder and author... decided that riches are counted in more than dollars. Simmons was inspired by the yogic principal of ahimsa (doing no harm) to reject the meat industry.

"Since then, Simmons has dedicated his career, which spans the music, fashion, and television industries and translates into a personal net worth of more than $300 million to promoting peace and respect for all living beings, regardless of race, species, gender, or religion. This outspoken public advocacy of respect for all has earned Simmons the title of PETA's Person of the Year 2011."

Simmons says, "The horrible abuse of animals is the worst karmic disaster in the history of human kind. The work that PETA does to combat this catastrophe is amazing. I'm truly humbled to be chosen as this year's Person of the Year, but the praise should go to the hundreds of thousands of volunteers that are on the ground doing the work. I accept this honor on their behalf."