Russell Simmons Honored For His Anti-Slavery Charity Work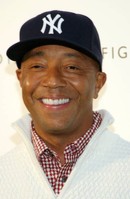 Rap mogul Russell Simmons was honored at a glitzy gala on Thursday for his work with an anti-slavery charity.

Simmons has long supported the Somaly Mam Foundation, which aims to help women who have been previously forced into sex slavery, and he was feted for his contributions at the organization's gala in New York.

In a series of posts on his Twitter.com page, he writes, "Being honored now by Somaly Mam foundation (works to eradicate modern day slaves). Somaly Mam - she is an absolute hero of mine. Former sex worker in Cambodia who has an extraordinary foundation helping young girls."

After the ceremony, Simmons visited the protesters at the Occupy Wall Street camp at Manhattan's Zuccotti Park, and vowed to collect clothing for the chilly activists, who are campaigning for better social equality.

He adds, "Just left Occupy Wall Street they R (are) braving cold weather, I sent out 5 of my coats gonna do coat drive on (website) Globalgrind.com."