Russell Simmons Defends Jay-Z's 'Occupy' T-Shirts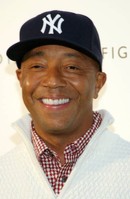 Russell Simmons has defended his friend Jay-Z after the rapper came under fire for selling T-shirts in support of the Occupy Wall Street protest and failing to hand over any of the proceeds.

The Big Pimpin' hit-maker's Rocawear fashion line has been marketing tops emblazoned with the slogan 'Occupy All Streets' in reference to the anti-corporate greed movement which started in New York.

However, the protesters labeled Jay-Z a "bloodsucker" after discovering the rapper's company would be keeping all of the profits made by the T-shirts.

The star's friend Simmons, another big supporter of the Occupy movement, has now come to his defense, insisting the hip-hop star's shirts are furthering the cause.

He tells Billboard, "What's wrong with selling goodness? There's nothing wrong with it. Jay-Z didn't make a T-shirt (that said) 'F**k the Bums on the Street.' He wrote a T-shirt 'Occupy All Streets' - I'm happy, it furthers the movement, it inspires the movement."

Simmons adds, "I'm going to get every corporation that wants to support us to get branding as part of the process. No one's against business. We're against business having too much control over our government."