Russell Hantz duped, sent to 'Survivor' Redemption Island - Feb. 27-March 5, 2011 Reality TV Highlights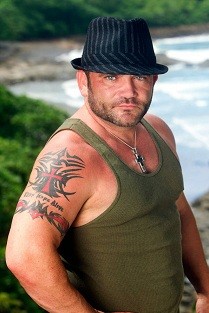 Russell Hantz, who has over and over again proclaimed himself the king of "Survivor," was duped by his newbie tribe members on this week's episode of the series. When Russell figured out his tribe had thrown the immunity challenge to be given the opportunity to send him to Redemption Island, he vowed to show all of them he was not to be messed with. Unfortunately, his last ditch efforts to take over – which included having Stephanie persuade Julie to switch sides – completely bombed. Keep reading for a full episode recap.
Winter 2011 TV schedule + March/April premieres
Top reality TV highlights from the week of Feb. 27, 2011:
The "Amazing Race: Unfinished Business" teams stayed in Australia to complete the second half of their first leg on Sunday's episode. The second half of the leg included the teams performing traditional Aboriginal dances and creating Aboriginal paintings using a clay mixture mixed in their mouths. It also featured the teams hopping around town dressed as kangaroos in search for the pit stop clue. There was a lot of flip-flopping between the beginning and end of the episode. Amanda and Kris, who were eliminated at the end of the episode, began the day in second but were unable to keep themselves in the front of the pact due to the U-Turn that required they complete both Detours. /// Full recap
Brad Womack and his final three bachelorettes were in South Africa for fantasy dates on Monday's episode of "The Bachelor." Chantal and Brad went on a safari, Emily and Brad rode an elephant, and Ashley and Brad took a helicopter tour of the savannah. At the rose ceremony, Brad decided it was time to let Ashley go, although he told her in private before handing out roses. Brad told Ashley he was worried he wouldn't fit into her life, which, compared to his, was just beginning. Ashley was surprised, which was surprising to viewers because the couple had an extremely awkward final dinner that was plagued with miscommunication and frustration. /// Full recap /// Interview with Ashley, who believed she and Brad were "right on track"
"The Biggest Loser: Couples 4" contestants successfully returned home on Tuesday's episode, impressing viewers with their abilities to avoid temptation and keep up with workouts. The contestants were home for two weeks, much of which was spent preparing for the upcoming 5K. Once back, the contestants learned their 5K finishing positions would determine their trainers, just as it had at the beginning of the season. Arthur, who finished last, was the week's victim. Not only was he forced on to the Red team, which devastated him and his trainers Bob Harper and Jillian Michaels, but he was eliminated when the Red team lost the weigh in, even though he was one of the team's biggest losers for the week. /// Full recap
Who knew you could take down the king so early in the game? We can imagine "Survivor" star Russell Hantz is still reeling from being eliminated on Wednesday's episode. Granted, he wasn't sent home for good, instead being banished to Redemption Island, where he will compete against Matt to stay in the running for the money. Russell was confident he had the ticket to overturning Ometepe's six-person alliance, but at the last moment, his only hope – Julie – decided she would rather stick with the currently strong than attached to a player who was strong in the past. /// Full recap
When you're younger, looking older is key, but apparently, when you're older and trying to earn Tyra Banks' approval, the older you look, the faster you'll fall. On Wednesday's episode, Nicole Lucas' hopes of being "America's Next Top Model" were dashed when the judges said she, once again, looked much, much older in her photos than in person. Along with the week's elimination, the models screamed at their inner critics and photographed with bees. /// Full recap
Everyone was shocked when "American Idol" announced it would choose a Top 10 instead of a Top 12 this season, but the show threw us for another loop when they announced the Top 10 and then gave each judge the opportunity to choose a wildcard, giving viewers a Top 13 for season 10. /// Meet the Top 13
Oh, Snookie. Poor Snookie had some trouble dealing with her feelings for Vinny on this week's episode of "Jersey Shore." Her feelings for her roommate have been building each episode, but everything came to a heads this week when Vinny brought a girl home to smush, devastating Snookie, who spent at least one night and one day crying in her bedroom. Vinny felt bad about his actions, but he felt Snookie was being a hypocrite since she had been bringing men home a lot recently. Snookie didn't see it that way, and for a while she wasn't speaking to Vinny. Eventually, Snookie apologized to Vinny for her drunken rant and tears, but it is doubtful this won't happen again. At the beginning of the episode, Sammi returned to the house. Ronnie was shocked to see her, and he spent her first night back hovering over her, but Sammi stood strong, and it appears the two might be able to survive the rest of the summer in the same house.
Bonus:
ABC announced the celebrity cast for its twelfth season of "Dancing with the Stars." Three days after the announcement, the network revealed who each celebrity would be paired with during their time in the competition. This season's cast includes the original Karate Kid, a Disney Channel superstar, one of the hottest talk show hosts on air, a Super Bowl MVP, and a woman who claimed she would never step foot on the DWTS stage. To meet the cast and their professionals, click here.
NBC's new singing competition "The Voice" finally has judges. Cee Lo Green and Adam Levine were the first judges named to the panel, while the announcement of Christina Aguilera as a judge soon followed, killing all rumors Aguilera would be a judge on Simon Cowell's upcoming show "The X Factor." /// The Voice Examiner
For more TV recaps, news and interviews, follow Amanda on Twitter  and click Subscribe at the top of this page