Russell Crowe To Play Jor-El In 'Superman' Reboot?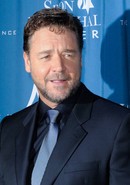 Russell Crowe is in talks to take on Marlon Brando's role in the upcoming Superman revamp.

The Oscar winner is slated to portray the Man of Steel's father Jor-El in Zack Snyder's new superhero movie, opposite Brit Henry Cavill.

If he signs on, he'll join Amy Adams, Diane Lane and Kevin Costner in the movie.

His Gladiator co-star Connie Nielsen is also reportedly in negotiations for the film - to play Jor-El's wife, and Superman's mom, Lara.

Brando played Jor-El in Superman: The Movie (1978) and was featured in 2006's Superman Returns, thanks to CGI (computer-generated imagery) effects.