Russell Crowe Nearly Quit 'Robin Hood'

Russell Crowe nearly quit his role in the upcoming Robin Hood movie after the first draft of the script painted the legendary British outlaw as a villain.

The project, originally titled Nottingham, was marred with problems when production began in 2007, with movie bosses forced to halt work while scriptwriters reworked the story. Sienna Miller was originally cast as Maid Marian, but was axed in favor of Cate Blanchett, and the title was changed to Robin Hood.

Filming eventually began in 2008 and wrapped last year, and Crowe admits he's glad movie bosses agreed to rework the project - because he wouldn't have continued if the script hadn't been rewritten.
He says, "When I read that particular script, and no disrespect to the guys who wrote it, but it kind of read like CSI: Sherwood Forest. And I just wasn't into doing that. It wasn't interesting to me in that incarnation."
 
While director Ridley Scott adds, "It was f**king ridiculous. It was terrible, a page-one rewrite. If you're going to invest in a Robin Hood story, why call it Nottingham? You'd end up spending 80 per cent of the publicity budget on explaining why it's Nottingham, not just Robin Hood. It doesn't make any sense."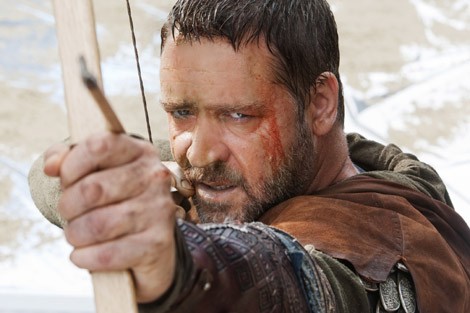 Click Here For More Robin Hood Pictures