Russell Crowe and Cate Blanchett Star In 'Robin Hood' - On DVD & Blu-ray Sept. 21

Oscar winner Russell Crowe reunites with "Gladiator" director Ridley Scott to reveal the untold story of a common archer's rise to become a hero in "Robin Hood", the $309 million worldwide blockbuster coming to Blu-ray Hi-Def Combo Pack, 2-Disc Special Edition DVD and single disc DVD on September 21, 2010 from Universal Studios Home Entertainment. All of these versions will feature the theatrical film, as well as a never-before-seen unrated director's cut of the movie. The film and its unrated version will also be available day and date for digital download and video on demand.

The 3-disc Robin Hood Blu-ray Combo Pack will feature a Blu-ray and DVD copy of the theatrical and director's cut film, as well as a digital copy of the director's cut that can be viewed on an array of electronic and portable devices anytime, anywhere. Additionally, both the Blu-ray Combo Pack and the 2-Disc Special Edition will feature deleted scenes and filmmaker commentary, plus an extensive look at the making of Robin Hood that includes behind-the-scenes interviews with cast and crew. The Blu-ray release also exclusively features an interactive "Director's Notebook," which seamlessly takes fans inside the making of the specific scenes of the film, from production design to special effects.

Sweeping pageantry and heart-pumping action transports viewers to the meticulously recreated medieval battlefields and byways of 13th century England for the inspiring story of a legendary hero. Robin Hood's sterling cast also includes Academy Award winners Cate Blanchett and William Hurt, as well as Mark Strong, Mark Addy, Oscar Isaac, Danny Huston, Kevin Durand, Scott Grimes, Matthew Macfadyen, Eileen Atkins, Simon McBurney and Oscar nominee Max Von Sydow.

Robin Hood's expansive scale and exhilarating action sequences hit a bulls-eye with critics around the world, with Pete Hammond of Boxoffice Magazine saying, "If you've think you've seen Robin Hood, think again," and adding that that the film is "spectacular epic movie making at its best in the tradition of Gladiator and Braveheart." Robin Hood is "An original, new take on a classic story," in the words of Patrick Stoner, WHYY – PBS (Philadelphia) and "A must-see epic adventure!" according to Christina Vandre, KARE – NBC (Minneapolis). Dan Jolin of Empire gives it four stars, calling it, "Ridley Scott and Russell Crowe at their most entertaining since Gladiator."

Robin Hood chronicles the life of an expert archer, previously interested only in self-preservation, from his service in King Richard's army against the French. Upon Richard's death, Robin Longstride (Oscar winner Russell Crowe) travels to Nottingham, a town suffering from the corruption of a despotic sheriff and crippling taxation, where he falls for the spirited widow Lady Marion (Oscar winner Cate Blanchett), a woman skeptical of the identity and motivations of this crusader from the forest. Hoping to earn Lady Marion's hand and salvage the village, Robin assembles a gang whose lethal mercenary skills are matched only by their appetite for life. Together, they begin preying on the indulgent upper class to correct injustices under the sheriff. With their country weakened from decades of war, embattled by the ineffective rule of the new king and vulnerable to insurgencies from within and threats from afar, Robin and his men heed a call to ever greater adventure. This unlikeliest of heroes and his allies set off to protect their country from slipping into bloody civil war and return glory to England once more.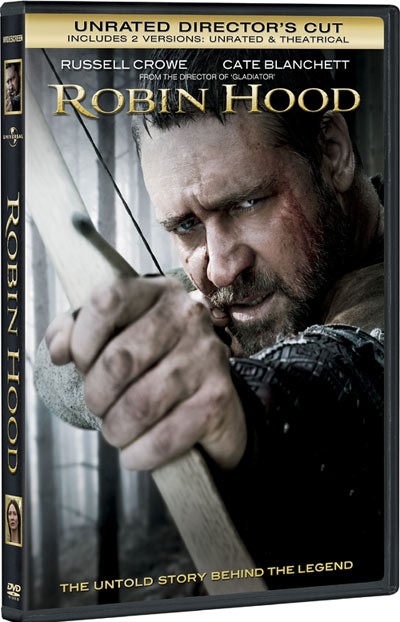 Click for more great Russell Crowe pictures: