Russell Brand's Love For Katy Perry Inspired His 'Arthur' Remake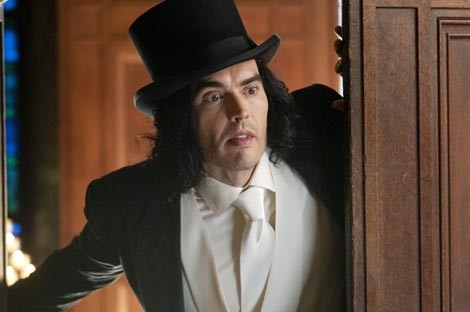 This week Russell Brand stars in the remake of Arthur. True to the original, Brand plays a drunk billionaire who falls in love at the risk of his family fortune. In real life, Brand gave up his womanizing ways to marry Katy Perry, and says that inspired him to be the new Arthur.
"Like in Arthur, love has an incredibly transformative quality," Brand said. "The first thing you do when you fall in love is that you recognize that you're not the most important person in the world, and your focus becomes another person. The reason the film resonated with me, in the way that it does, is because Arthur is a person without direction, until he falls in love."
The remake does away with the classic theme song, but Brand still knows what to do when he gets caught between the moon and New York City. "The best thing you can do is fall in love. That's why this film resonated so strongly with me, and why I'm so happy with it. My life has been changed by falling in love. I know that, whilst that is a romantic idea and, in this case, fictional, it's something that's happened to me. That's why I'm so enamored of this story. I love the original movie. Dudley Moore is a great hero of mine. To be able to recreate that film, with such a talented ensemble of people, was an incredible gift."
In the film, Arthur's mother pressures him to marry Susan (Jennifer Garner) so that she can take over the family business. That's when Arthur meets humble tour guide Naomi (Greta Gerwig) and discovers true love.
"We saw loads and loads of different actresses, which was all right, but I was already on the way to getting married then, so I couldn't enjoy it, like in the good old days, where auditions had a more primal quality," Brand joked. "We did the audition with Greta and, afterwards, I was sitting quietly. It was the last casting of the day and I was quiet and [director] Jason [Winer] said, 'What's the matter?' I said, 'I feel sad, now that she's gone.' It was because I had enjoyed playing with her so much. She has such a brilliant imagination, she's a great improviser, she has a wonderful understanding of comedy, she has a wide range of ideas and peculiar choices, and she's a very, very beautiful person. It's a good peculiar, in a magical way that's a strange mutation, like only nature can produce. Also, it was important that it was someone that existed outside of the paradigm of Arthur's normal world of privilege and luxury, and someone for whom it was conceivable that you would give up a billion dollars for. And, Greta had this naivety and innocence, and a sense of fun and wonder that made that notion feasible."
Arthur opens Friday.