Russell Brand Never Takes Death Threats Seriously

British comic Russell Brand never takes death threats seriously - despite receiving a barrage of nasty notes over the years.

The funnyman was targeted by hate mail after he made a joke about former President George W. Bush at the MTV Video Music Awards in 2008 - his gags likening Britney Spears to Christ and poking fun at the Jonas Brothers' purity vows also led to a series of threats.
 
However, Brand is adamant he will never let hate mail affect him - because he doesn't want to live his life in fear.
 
He tells Playboy magazine, "I was surprised my agency forwarded them along to me. It was like, 'Look at all these death threats you've been getting!' I was also getting sexy letters with messages like "Hello, Russell. Here are photos of my t**s. I wish you'd come around and f**k me.' But they never passed those along to me. Those letters they just burned. All I got were the death threats. I never took any of it seriously. If you think about it, a death threat is really futile, given the nature of mortality. If you want somebody to die, just wait."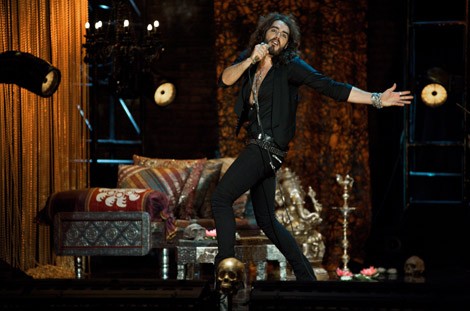 Click Here For More Russell Brand Pictures