Russell Brand Is Used To This; Jonah Hill - Not So Much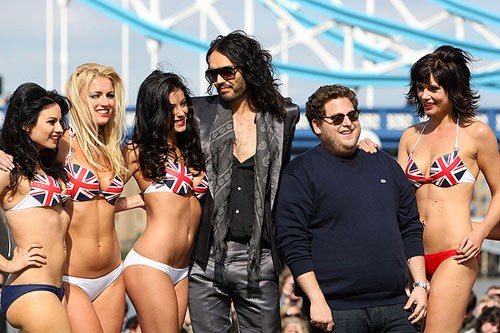 Russell Brand and Jonah Hill showed up to the "Get Him to the Greek" U.K. photocall yesterday, and we wonder if Katy Perry gets jealous when her fiance hangs out with bikini-clad models?

Katy recently banned all heterosexual men from the set of her "California Gurls" video because she didn't want them to see her naked. She told MTV.com, "You weren't allowed (on the set) unless you were a girl or you're gay; I think that's probably like the standard for all girlfriends." Yet Russell gets to hang out with nearly naked women...hmmm...double standard?

Jonah recently admitted he's scared of his Greek co-star Diddy. The hip hop star convinced Jonah he had a loaded gun as they sped along Sunset Boulevard in the actor's car. Jonah said, "He tells me the other day...'I was totally messing with you, man!' That was water in the (vodka) bottle, there was no gun in the car. He was doing it totally as a joke...It's, like, 'Wow, Diddy's actually hilarious.'"
(click pic for next)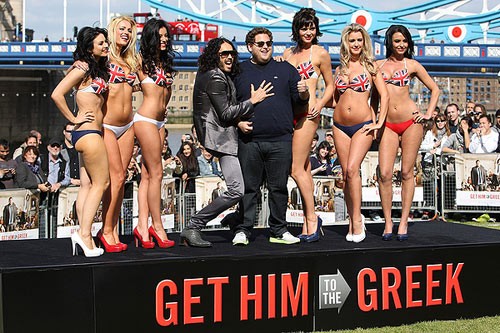 Click the pics for larger images:
- Click here for more Russell Brand pictures! -
- Click here for more Jonah Hill pictures! -